LOS ANGELES: Indian Wells tournament director Raymond Moore resigned on Monday (Mar 22) after coming under heavy fire for saying women's tennis "ride(s) on the coat-tails of the men".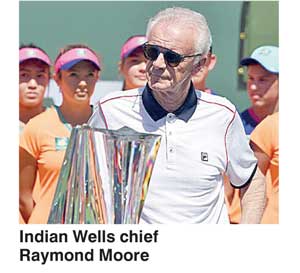 "Ray let me know that he has decided to step down from his roles as CEO and tournament director effective immediately," the event's owner, Larry Ellison, said on the tournament website. Moore provoked outrage on Sunday when he said top-level women's players rode "on the coat-tails of the men" and were "very, very lucky" to have equal prize money. Moore, a 69-year-old South African and former ATP Tour player, also singled out Canada's Eugenie Bouchard and Spaniard Garbine Muguruza as being among the "very attractive prospects" on the WTA circuit tour, before explaining that they were "physically attractive and competitively attractive."

Added Moore: "If I was a lady player, I'd go down every night on my knees and thank God that Roger Federer and Rafa Nadal were born, because they have carried this sport."

His comments drew wide scorn and even prompted tennis great Martina Navratilova to say she would not be surprised if female players boycotted the tournament at Indian Wells as long as Moore was in charge.