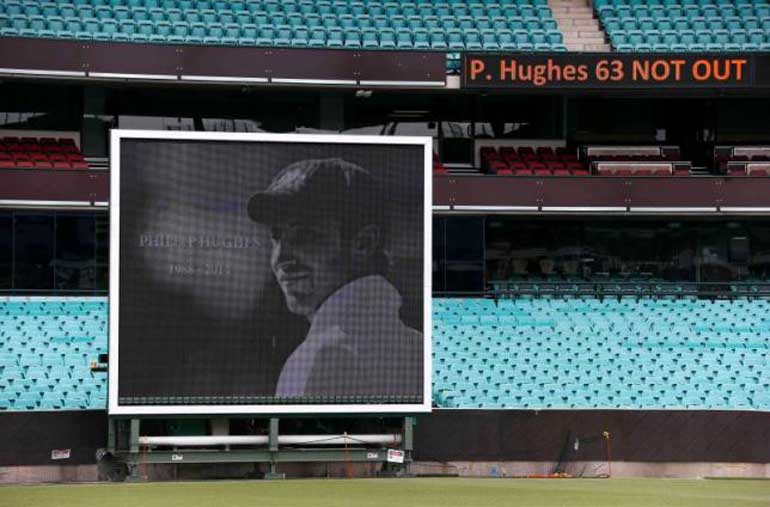 A scoreboard and side screen display tributes to Australian cricketer Phillip Hughes at the Sydney Cricket Ground (SCG) 3 December 2014
Cricket Australia has commissioned an independent review into the cause and circumstances of last year's death of test batsman Phillip Hughes in a bid to prevent anything similar happening in the future.

Australia was engulfed in a wave of mourning after Hughes, 25, died from catastrophic injuries on 27 November last year, two days after he was struck in the neck by a ball during a domestic Sheffield Shield match at the Sydney Cricket Ground.

The review, which will be chaired by senior lawyer David Curtain, will have a wide brief to make recommendations on the safety of matches organised by Cricket Australia, including on the design and mandatory use of helmets to prevent injuries.

"When this tragedy happened, I said that it was a freak accident, but it was one freak accident too many," Cricket Australia Chief Executive James Sutherland said in a statement.

"This is not an exercise designed to apportion blame on any individual for what took place. It is about making sure that as a sport we are doing everything in our power to prevent an accident of this nature happening again."

In addition to looking at protective equipment, it will assess the level of medical support on hand during matches, the medical screening of contracted players and Cricket Australia's approach to players who suffer head and heart injuries. "There were certain measures put in place soon after Phillip's passing such as increasing the medical presence at all CA matches and working very closely with our helmet supplier to investigate the suitability of protective head equipment offered to all players," Sutherland said.

"This review will help determine whether we need to implement further measures before the 2015-16 season."

The review will not look at the rules of the cricket except where they pertain to the issues of protective equipment and the management of players who suffer head or heart injuries.

That means there will be no recommendations on the use by bowlers of the sort of bouncer, a short delivery which sends the ball rearing up towards the batsman's head, which caused the injury to Hughes.

Cricket Australia's website said no player or official would be obliged to testify in front of the review. "We fully recognise that undertaking a process such as this may be a traumatic experience for some and we will be as respectful and understanding as possible throughout that time," Sutherland added. "As such Cricket Australia and all states continue to make available counselling and support to any players and staff who feel they need help at any time."

The findings of the review are likely to be published later this year, Cricket Australia said.