Three lucky HSBC Advance customers got the chance to soak in the sporting action at the biggest sporting event in the middle east and final race of the 2015 season – the ABU DHABI F1 – Grand Prix at the awe inspiring Yas Marina Circuit in Abu Dhabi. They were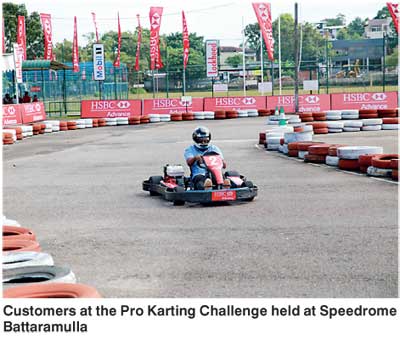 also in for unrivalled entertainment with this year's lineup of global superstars taking Abu Dhabi's grand finale race weekend to the ultimate level.

The winners D.S.G. De Zylva, R.M. Hussain and L.I.U. Wijetunga each received a fully sponsored hospitality package with return air fare, hotel accommodation, F1 main grand stand tickets and a three day complimentary pass for their companions to witness the non-stop adrenaline of motor racing at the uncontested social and sporting occasion of the year.

It all began with the HSBC Advance Spend Campaign held during 1-31 October, where customers who used their HSBC Advance credit card for over rupees 100,000 or introduced a referral to HSBC Advance were eligible to qualify for a Pro Karting Challenge at the Speedrome in Battaramulla where they got to enjoy the thrill of racing in four-wheeled scaled down versions of large racing cars, a stepping stone to almost any form of circuit racing, on 7 November. The customers with the best timing for each category were selected.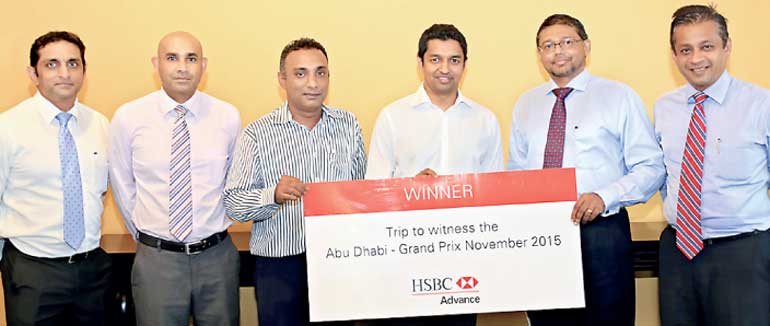 The lucky winners with Tharanga Gunasekera, Head of Marketing and Communications, Aasiri Iddamalgoda, Head of Cards, Premier, Products and Services and Nilantha Bastian, Head of Retail Banking & Wealth Management