Isipathana College OBA Joint Secretary Nihal Dassanayake, Rugby Committee Chairman/VP Sports Rajiv Rodrigo, VP Affiliated Association Anura Serasinghe, OBA Senior VP Hassan Sinhawanse, Isipathana College Principal Premasiri Epa, Hameedia General Manager Chinthaka Wanigasekara, Hameedia Head of Retail Sales and Marketing Yasotharan Paramanantham and Hameedia Manager Advertising and Promotions Ramasamy Balakumar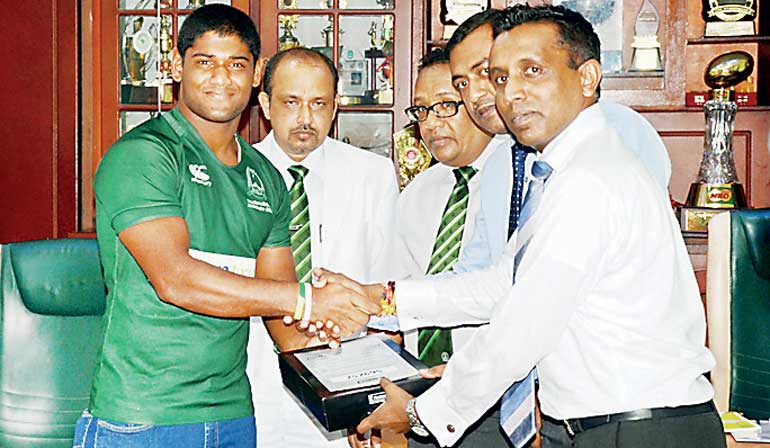 Management of Hameedia handing over the formalwear clothing to the rugby team members
Continuously setting the benchmark in the fashion industry, Hameedia Sri Lanka's leading menswear specialist, recently stepped forward as the official formalwear sponsor of the Isipathana College rugby team.

This is the first time that the Isipathana team has been sponsored by a formal clothing brand and the sponsorship was officially announced at a ceremony which took place at the college grounds.

At the event, the management of Hameedia handed over the formalwear clothing to the rugby team members. The Principal of the school, teachers and members of the Isipathana Old Boys' Association were also present.

Hameedia has had a longstanding relationship with Isipathana College, and recently contributed towards the school's swimming pool project. At a national level, the brand has also partnered with Sri Lanka Tennis as the official clothing sponsor of the Sri Lanka Tennis Association (SLTA), and with Sri Lanka Cricket as the official clothing sponsor of the national cricket team.

Commenting on the partnership with Hameedia, Isipathana College Principal Premasiri Epa stated, "We are immensely happy to partner with Hameedia and would like to thank the company for supporting us as the official formalwear sponsor of the college rugby team. The team members have been performing really well and they will continue to bring a significant level of recognition and pride to the school, the game of rugby and our valued sponsor Hameedia. There is no doubt that this partnership will support the team and enable them to dress their best as they represent the school on important formal occasions." Commenting on the partnership with Isipathana College, Hameedia Managing Director Fouzul Hameed stated: "Rugby has a long history in Sri Lanka dating back to the colonial era. Since then Rugby has become a sport which has been adored by Sri Lankans worldwide. Rugby is a game that promotes sportsmanship and camaraderie and here in Sri Lanka, the rugby season is a highly anticipated one. Hameedia is honoured to be associated with the Isipathana College rugby team and we look forward to supporting our rugby players, by helping them to step out in style on formal occasions. Hameedia has a very strong local and international brand presence and has been impacting men's fashion in the country for decades. We are glad to have this opportunity to support the game of rugby and we look forward to dressing the next generation of rugby players from Isipathana College."

Hameedia dresses many of the national sports teams and helps each player to look good, stand out and make a statement during every local and international appearance. Hameedia was established in 1949 and has grown to become a household brand in Sri Lanka. Renowned for high quality, custom tailoring and ready-made clothes for gents, the Hameedia multi-brand retail stores house a collection of quality menswear brands including Le Bond, Envoy, Signature, Raymond, Lee and adidas to name a few. Hameedia also prides itself on offering exceptional standards of service to ensure that clients enjoy a positive and personalised experience at each store. With a network of over 30 outlets across Sri Lanka and a team of over 1,000 employees, Hameedia has a strong local presence and has also expanded globally with outlets in the Maldives and Australia.