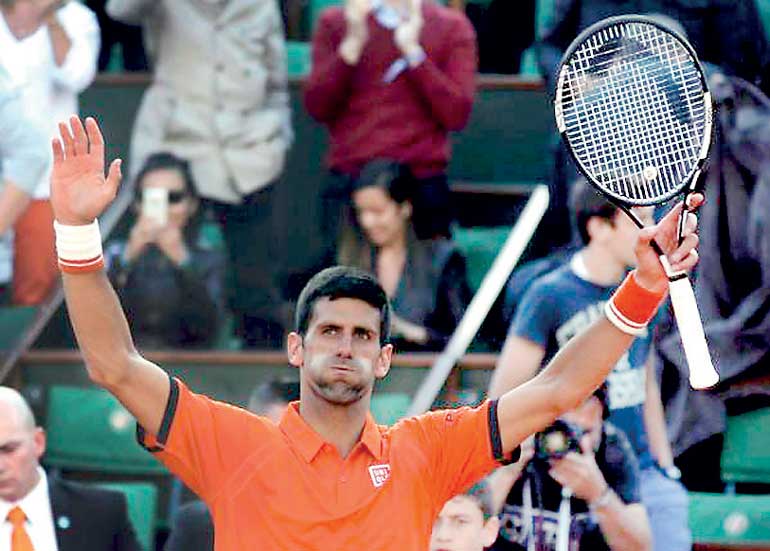 Novak Djokovic of Serbia celebrates after defeating Richard Gasquet of France during their men's singles match during the French Open tennis tournament at the Roland Garros stadium in Paris, France – REUTERS
REUTERS: With a monster clash against claycourt machine Rafa Nadal looming, Novak Djokovic wasted no time in executing an awe-inspiring demolition of Frenchman Richard Gasquet 6-1 6-2 6-3 on Monday to reach the French Open quarter-finals.

The Serb needed seven break points to break the 20th seed's serve in the third game but once he had that advantage in the bag, there was no looking back. The top seed won nine games in a row to put Gasquet on the ropes.

Drop shots, gravity-defying crosscourt backhand winners and steely defence -- Djokovic had way too much in his reserves to sink a hapless Gasquet.

The French favourite managed to please the Court Philippe Chatrier crowd with some sublime one-handed backhands but they failed to stall Djokovic's charge towards the last eight.

Djokovic, who dropped serve only once, ended Gasquet's ordeal with an exquisite dropshot as he continued his quest to win the only grand slam title missing from his collection.

"I could not ask for a better lead-up to that match," Djokovic told a news conference when asked about the showdown with nine-times Roland Garros champion Nadal.

Gasquet tried his best, setting up two break points in the second game, but Djokovic saw them off and put pressure on the Frenchman's serve in the following game, which lasted 10 minutes.

Once the deadlock was broken in that game, Gasquet was completely overwhelmed.

"He is very, very tough to play," said the Frenchman. "It's tennis made perfect, he plays perfectly on both sides, you know there is never a moment when you will be able to step into the court. It's like ping pong -- the ball always comes back."

A superb backhand down the line gave Gasquet a lifeline in the third set as he broke back in the seventh game but it could not stall Djokovic's momentum as he took the remaining games. "I managed to stay mentally tough, kept things together, and played a really good match," said Djokovic.

The world number one heads into what has already been dubbed the match of the season still unbeaten this year on clay, a surface mastered by Nadal like no other before.

"Playing him here and playing him in any other tournament in the world is completely different," said Djokovic, who has a 14-0 win-loss record on clay this season.

Nadal is 70-1 at Roland Garros since his debut in 2005.