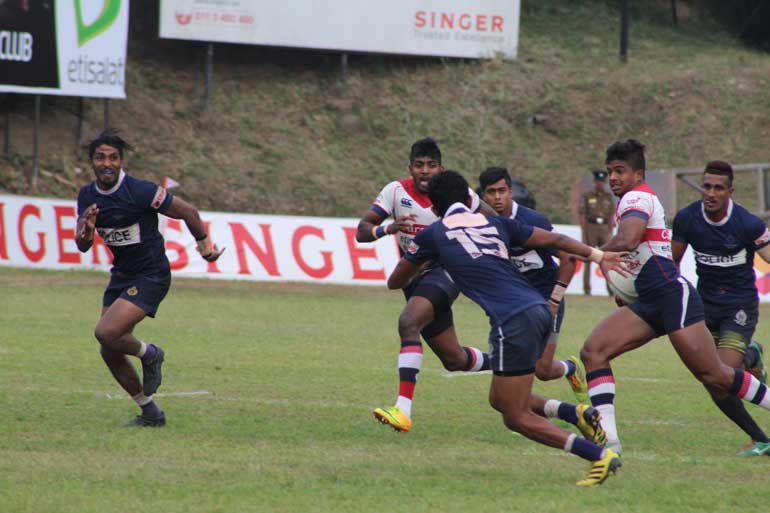 Kandy's Richard Dharmapala on the attack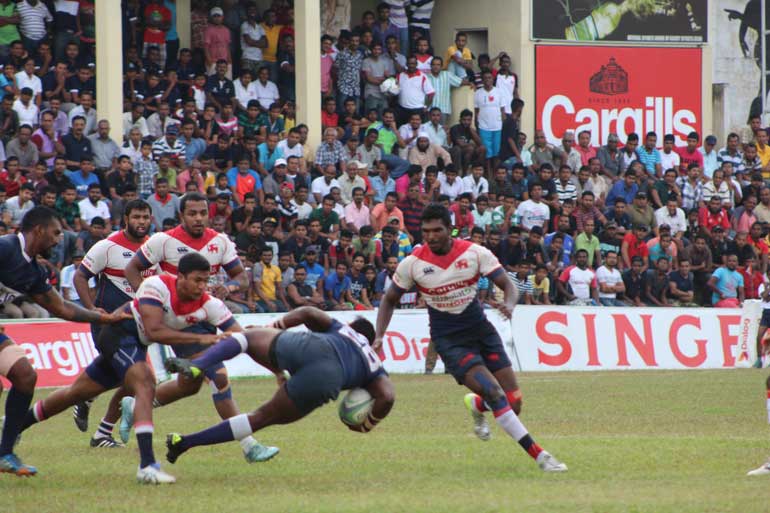 By Shamseer Jaleel

Some sensational running rugby from Kandy's Centre Richard Dharmapala, who scored a hat-trick, helped the club continue its unbeaten run at the inter-club rugby league by outclassing Police by 44 points (3 goals, 4 tries, 1 penalty) to 17 points (1 try, 4 penalties) at the Nittawela Rugby Stadium yesterday.

At halftime Kandy led 18-9.

Kandy as usual played well within themselves but the unexpectedly close tussle in the first half made the game more interesting for fans at the stadium. Police, with the help of their Centre Musheen Faleel, flanker Sharo Fernando, Number 8 Radheesha Senaratne and fullback Reza Mubarak, played a grand game both in defence and attack. Both Faleel and Radheesha Senaratne looked threatening with their powerful moves which put Kandy under pressure. Their fullback Mubarak showed very good judgment with his kicking game and was outstanding in his defence as well. The Cops took Reza out with 20 minutes of play left, which left the floodgates opened for Kandy with a number of tries.

Champions Kandy, playing at home, were in peak form. However, they were without their skipper Fazil Marija, who will be out for nearly a month with Nigel Ratwatte taking his place and Dhunshka Dayan moving to the fullback position. Kandy winger Vishwamithra Jayasinghe and centre Dharmapala both were at their peak. Dharmapala in particular was unstoppable with his swift moves which disrupted the Cops' defence.

Police kept on attacking early in the game but failed to find the tryline. Kandy drew first blood when Police's Chanaka Chandimal high tackle on Nigel Ratwatte was caught by the referee. Ratwatte was on target with a 35-meter penalty for an early lead. Three minutes later through a sweeping three quarter move second rower Gayan Ratanayke scored the try.

Soon afterwards Police fullback Mubarak was on target with a 35-meter penalty to cut the deficit to 8-3. Three minutes later Mubarak reduced Kandy's lead further with another 35-meter penalty when the Kandy line was caught offside.

Kandy scored their second try through a quick three-quarter move where the ball ended up in the hands of Gayan Weeraratne, who touched down for the score. But Mubarak was accurate with anther penalty to reduce Kandy's lead to 13-9. With 10 minutes to halftime, Dharmapala was in top gear to touch down to take his team's lead to 18-9.

After the turn-around Kandy scored through Nigel Ratwatte, Richard Dharmapala (2) and Dhanushka Dayan. Two of the conversions were on target by Nigel and one by Arshard Jamaldeen. For the Cops, Reza put over his fourth penalty and Mohamed Abzal scored the only try, which was initiated by Musheen Faleel, who covered nearly 50 meters before passing the ball. The game was refereed by Irshard Cader. The game's assistant referees were Sarath Madugalle and Y.M.S. Ratnayake. The Match Commissioner was Tuan Dole. Kandy will next play Army on 6 February in Colombo.