Sri Lanka Cricket announced yesterday that it has allocated Rs. 264 million to conduct premier tournaments of 2016 which will commence on 25 November.

The initiative, which consists of a League Tournament, a Limited-Over Tournament and a T20 Tournament, will field 24 teams divided into two tiers and will be played across 8/9 weeks ending in February 2017.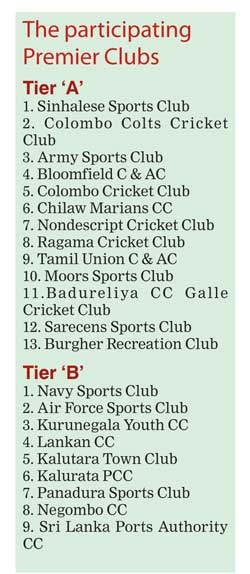 In the League Tournament, the Tier 'A' clubs will play a total of 84 three-day games in two groups in the first round and move into a 'Super Eight' format for the second round which will consist of 32 matches that will be played with a pink ball. The Tier 'B' Clubs which will consist of 10 teams will play a total of 90 games. The Limited-Over and T20 tournaments will follow with 24 teams playing 134 matches in 4 groups with the top 2 teams of each group playing at the Quarter final stage, in a knockout format.

SLC President Thilanga Sumathipala at a media briefing expounded on the Executive Committee's vision for the future of cricket in Sri Lanka and its defined investment in domestic cricket.

"We have done an in-depth study of the domestic structure and worked together as a policymaking body to come up with a solid plan. The first phase of this was completed last week when we awarded 85 National Contracts to players across the board selected according to strict merit based criteria. This ensures that quality players with experience and expertise are retained for the domestic season. The second phase is put into action today with the distribution of these world renowned bowling machines to the [Premier] Clubs. With this, our focus shifts to providing cutting edge technology to the clubs for the development of the game," said Sumathipala.

The SLC President went on to state that the 24 Premier clubs would be provided grants of Rs. 11 million and 9 million each respectively for the Tier A&B Clubs in order to meet the expenses of the tournaments, and that more technological support was in the offing with equipment such as Mechanised Side Rollers, and Grass Cutters being ordered through SLC at a largely subsidised cost to the clubs.

"We have identified our Clubs as the place that we promote, sustain and develop cricket in our country, and we will invest as much as possible in this area. For Sri Lanka to make an indelible mark on the world arena we need to focus on strengthening and developing our domestic Cricket. This will provide us with a world class pool of players to select from. Our focus is on the quality of cricket and not just the quantity." He concluded.

SLC provided the 'Bola' brand bowling machines to the Clubs at a subsidised cost of only 30% of the net price, with SLC absorbing approximately Rs. 500,000/- per piece of equipment. SLC has also invested in two 'Merlin' brand Spin Bowling machines for the use of the National Teams.

The Premier Tournament this year commences under such an environment and promises for some scintillating cricket which will no-doubt uplift the standard of Cricket in Sri Lanka.