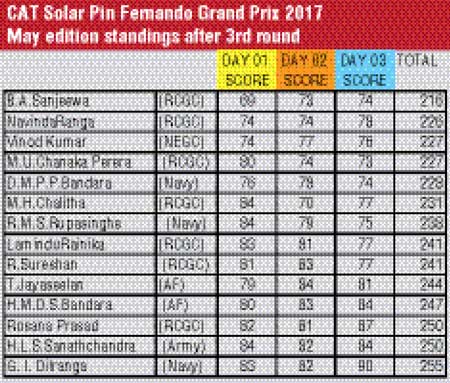 The Pin Fernando Grand Prix May Edition played at the Nuwara Eliya Golf Club Course approaches the fourth and final round with B.A. Sanjeewa extending his lead to 10 strokes from Naveenda Ranga.

Youngsters Chanaka Perera and local lad Vinoth Kumar are tied in third place, one shot away from the second placed Ranga. Chanaka Perera returned the best card for the day, with Sanjeewa dropping 3 strokes on Day 3.

The cut-off was implemented at 166, over two rounds and the competitive field of 60 amateur golfers was pruned to 14.

The monthly Grand Prix, powered by CAT Solar and sponsored by UTE (United Tractor & Equipment Ltd.), is a very important feature in the progress of amateur golf in Sri Lanka, since all these monthly scores are calculated for WAGR – World Amateur Golf Rankings, maintained by R&A, the foremost leader and governing body of golf, the authority on golf through the affiliation of the Sri Lanka Golf Union and similar national golf associations.

The sponsorship provided by CAT Solar – UTE, United Tractor & Equipment in conducting the monthly Grand Prix is the platform for the improvement of golf among the best amateurs in Sri Lanka.