By Shamseer Jaleel

Sri Lanka Rugby (SLR) which was suspended by Sports Minister Namal Rajapakse later on was handed over to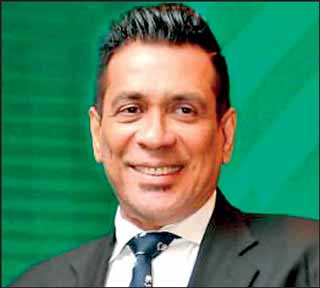 Rizly Ilyas
the Secretary of Ministry of Sports with effect from 1 April.

SLR headed by Rizly Ilyas and his team challenged the decision and went to the International Olympic Committee (IOC) and World Rugby (WR). In the end both bodies have recognised Rizly and his team who can operate and they (committee and subcommittee) are legally appointed. They will be the sole representative of Rugby in the country. This was confirmed in writing both by the IOC and WR.

Nippon Paint Rugby League 2022 which was stopped due to the present condition in the country will very likely be continued in an early part of May 2022 while the Sevens is likely to take place on 23 and 24 April. Both Kandy SC and Havies are the front runners for the League this time around. This will allow the national team to be sent for the Commonwealth Games 2022 in England and the deadline to submit the team is 30 April. Sri Lanka has always sent a Sevens outfit from the inception of the Commonwealth Rugby Sevens in 1998 which took place in Malaysia.

Rizly speaking to Daily FT said: "This is a blind side move by the Sports Minister and Ministry Secretary. How can a competent authority suddenly take authority of any sport, without a valid cause or reason? They haven't properly told SLR what's the real reason behind this so-called suspension and even the Gazette Notification does not explain how matters will be handled. The competent authority does not have the power to appoint sub committees as they were duly appointed by the Council of SLR."

It is learnt that Edirisooriya, the competent authority of rugby as per the Extraordinary Gazette Notification issued on 1 April temporarily suspending the SLR administration, had called the SLR office last week and instructed its permanent employees to follow his instructions. Further, there were attempts to take over and change signatories of the SLR accounts which were not done as per the President of SLR.

It is now evident that Sri Lanka's representation of the national rugby team at the Commonwealth Games 2022, to be held in Birmingham, England, will not be recognised under a competent authority, appointed by the now-inexistent Sports Minister Namal Rajapaksa.

In addition to NOC, World Rugby (WR), on 8 April, issued an official letter relating to SLR's latest development, in which confirms that SLR is a full member of WR and will be allowed to participate.