The five key batsmen whom Sri Lanka will rely on (from left): Chamindu Wickramasinghe, Shevon Daniel, Sadisha Rajapaksa, Pawan Pathiraja and Ranuka Somaratne.
---
Play Scotland in opening match tomorrow
---
By Sa'adi Thawfeeq
---
Sri Lanka has never won the ICC U-19 World Cup outright, the nearest they have come to doing so was in 2000 when they finished runner-up to India when it was held in Sri Lanka. The team was led by Malintha Gajanayake and comprised as many seven players who later went onto represent the country in international cricket – Jehan Mubarak, Thilina Kandamby, Akalanka Ganegama, Kaushal Lokuarachchi, Prabath Nissanka, Muthumudalige Pushpakumara and Kaushalya Weeraratne.

Sri Lanka has also twice reached the semi-final stage and lost, in 2010 under the captaincy of left-arm fast bowler Chatura Peiris in New Zealand, and in 2016 when Charith Asalanka led the side in Bangladesh.

The last U-19 World Cup held in South Africa in 2020 saw Sri Lanka perform at their worst, finishing ninth out of 16.

The present team that is in the West Indies led by Josephian all-rounder Dunith Wellalage offers some hope that Sri Lanka can turn it around and bring that elusive World Cup home.

"We are planning match-by-match, we always analyse our opponents the day before the match. Our batting and bowling is strong, and we are working with a plan. We only think of the positives. I think we can bring something good back to Sri Lanka," was the response of Wellalage when asked what Sri Lanka's chances of winning the World Cup were during a media conference on zoom.

"We have a good side and the players are really excited to play in the World Cup. We are in a good mindset, I think this World Cup can turn out to be a good one for us," he added.

One area that Sri Lanka needn't worry too much about are the conditions in the West Indies.

"The conditions are similar to what we experience in Sri Lanka, so it makes it easy for us during practices and during matches."

Sri Lanka's lead up to the World Cup has been impressive, beating the current champions Bangladesh 5-0 and following it up with a 3-2 win over England, and then finishing runner-up to India in the Asia Cup final.

However, in the World Cup, Sri Lanka has been given a tough draw on paper having three-time champions Australia and host West Indies to contend with along with Scotland in Group D.

"The first match we play is Scotland and then Australia and West Indies. I think we can give a good fight to the West Indies and Australia who are two good sides in the group," said Wellalage.

"We have a lot of all-rounders in our team and the team is ready to adjust to any decision, either batting or bowling. Although batting is our strength, we also have good bowlers, a balanced side."

Wellalage said that he expected big contributions from their five key batsmen whom he named as Chamindu Wickramasinghe, Shevon Daniel, Sadisha Rajapaksa, Pawan Pathiraja and Ranuka Somaratne.

"The coaches have given them big targets to achieve, play your normal game and be in a positive frame of mind. Pathiraja is our leading run-getter, likewise Shavon and Chamindu."

Sri Lanka opened their World Cup campaign with a 128-win against Ireland in a warm-up match played on Monday. They had one more match against Uganda yesterday before getting into the business end of things when they take on Scotland in their first World Cup group game on 14 January. Sri Lanka's other two group matches are against Australia on 17 January and West Indies on 21 January.

"I have to thank the coaching staff that we have. We are shown videos to correct our mistakes and most of the time we talk about the positives. When I go to the middle, I don't have any pressure. Even the bowlers know how to bowl to a plan, I only have to set the field for them," said Wellalage.

"I am getting a lot of support from the coaches, that is why we have been able to do well with this team against Bangladesh, England and in the Asia Cup. Any team likes to win the World Cup. My team also wants to achieve that goal," he said.

The Sri Lanka U-19 coaching staff comprises of Head Coach Avishka Gunawardene, Fielding Coach Upul Chandana, Fast-bowling Coach Chamila Gamage, Spin-bowling Coach Sachith Pathirana, Batting Coach Dhammika Sudarshana, and Manager Mahinda Halangoda.

To help Sri Lanka achieve that elusive World Cup dream is Mahela Jayawardene, one of the country's most successful captains of all-time, who as a Consultant Coach of Sri Lanka Cricket will be working with the boys providing invaluable experience to the younger group.

"Mahela has helped our team and he has a great knowledge. We can do a great job with him," said Wellalage.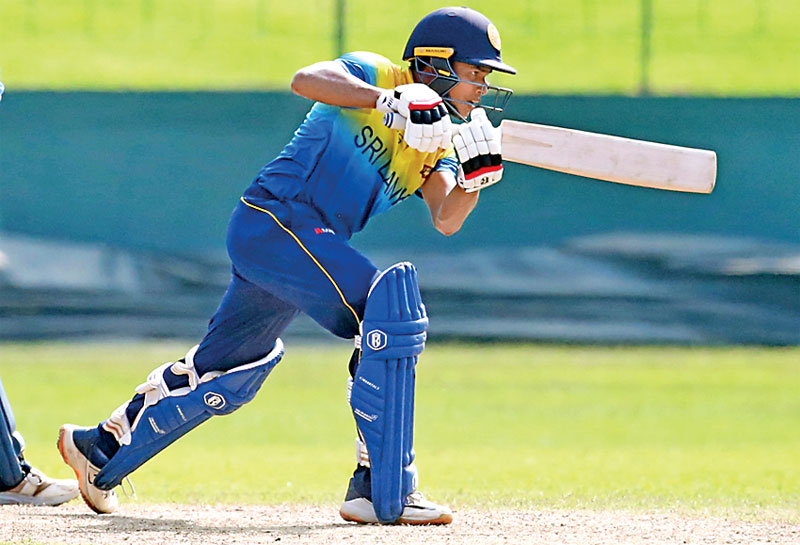 Sri Lanka U-19 World Cup Captain Dunith Wellalage
---