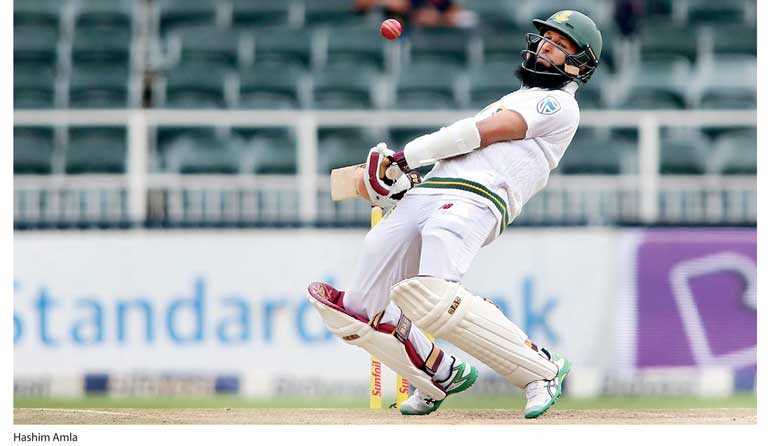 ESPNCricinfo: It isn't easy writing things like this, especially when the player in question is of the stature of Hashim Amla.

The most experienced batsman of South Africa's current national crop. The only one with a Test triple hundred to his name. Only the third South African to rack up 9000 Test runs. The man who doesn't sweat.

But Amla has a reason to have damp palms these days, because his form has dipped to the point where questions need to be asked, even if the only question is how much longer he wants to continue.

The current year is his second-leanest since he established himself in the national side in 2006, and he will only have the Boxing Day Test against Pakistan to change that. In nine Tests this year, Amla has scored just 439 runs, at 24.38 but the slump goes further back than that.

In the last two years, since July 2016, Amla has managed to score hundreds at home only against Bangladesh and Sri Lanka. No disrespect to those teams but Bangladesh on the placid pitches of Potchefstroom and Bloemfontein, and Sri Lanka at the Wanderers with the hosts already having secured the series, were hardly the best measure of international quality.

Take away those teams, and Zimbabwe who played in a four-day day-night match in South Africa last December, and Amla was averaging 31.17 in the two years before South Africa's trip to Sri Lanka. Include the two Tests in Sri Lanka and that drops to 29.00.

Questioning Amla's technique is beyond the expertise of this writer but there are a few points worth noting about the batsman's recent run.

In 2016, in Australia, he fell to Josh Hazlewood five times in succession, all on or outside the off stump. In England in mid-2017, Toby Roland-Jones was the problem in the latter half of the series, dismissing Amla three times in four innings. The first dismissal was a snorter from Roland-Jones, which took the glove; the second was caused Amla's uncertainty of whether to play or not and the third was not making enough contact on a long-hop and sending a catch to the wicketkeeper. Against India at home, the visiting seamers had the better of Amla, who again played recklessly outside off. And then, when Australia made the return trip, Hazlewood and Pat Cummins had Amla playing all kinds of uncharacteristic shots – a waft in Port Elizabeth, a chip straight to cover in Cape Town and chasing the outswinger in Johannesburg.

The common thread is that Amla has been rushed into making mistakes he was previously unlikely to make, and his own bubble of patience has been pierced by opposition bowlers. His average against spin has dipped from 60.04 before July 2016 to 44.72 since then, a difference of more than 15 runs. Against pace, it is an even bigger difference: 18 runs. In the four innings in Sri Lanka recently, Amla was caught at short leg twice, caught at leg gully once and bowled once. His trusted flick shot has let him down, his usually nimble feet are not moving quickly enough to get to the pitch of the ball and his shot selection is hurried. Amla is known for being able to play to his own pace but recently it has looked as though the bowlers have set a timer and Amla keeps running out of time.

Some would explain the impatience as a consequence of the growth of 20-over cricket; others on the broader South Africa situation, which has demanded more of Amla over the last two years than usual. They've needed him more, because they've had less: less stability and fewer big names.

Since Graeme Smith's (and then Alviro Petersen's) retirement, South Africa have struggled to settle on an opening combination, even they knew Dean Elgar was one-half of it. Since 2016, they rotated through Stephen Cook, who was dumped after an unsuccessful away tour to New Zealand in March 2017, Heino Kuhn, whose 113 runs in four Tests in England meant his first tour was also his last, and Aiden Markram, who should be in the role for a significant period of time. Through that time, the top-order was often Amla's to anchor.

It was also the same time, the two years between July 2016 and July 2018, when AB de Villiers, the batsmen with whom Amla has put on more than 2600 partnership runs in Test cricket, took a sabbatical from the longest format. The absence of de Villiers not only took away a player Amla complemented at the other end but shifted responsibility further onto Amla's shoulders. Without de Villiers, Amla was the only real "big name" in the line-up and big expectations have come with it.

That's not to say that Amla isn't used to constantly proving himself. His career started that way, but it should not end like that. His overall numbers do more than enough to etch him among the greats, but it is his recent numbers that will concern South Africa going forward.

As a team, they don't have to think about Amla's (or anyone's) Test form till December when they host Pakistan. But actually, as a team, they probably won't put as much emphasis on Test cricket as usual until after the World Cup, which is less than a year away. Amla will be an integral part of the squad that travels to England. Maybe as Faf du Plessis hinted previously, it will also be his last outing. And to that end, South Africa need to think of a succession plan.

In Colombo, South Africa promoted Theunis de Bruyn to No. 3 and Amla came in at No. 4. Perhaps that is a sign of things to come. De Bruyn made a strong case to stay in the spot with the best batting effort by any South Africa batsman in the series, and the first hundred of his international career. De Bruyn is a domestic No. 3 and could use a long run in the position to properly assess what he can do. The home summer – where South Africa will play five Tests and are likely to have a combination of seven batsmen and four bowlers – could be the ideal opportunity for that. That's not to say Amla won't play a role, but he might play it with less pressure and for someone who has achieved so much, that's the least he deserves.