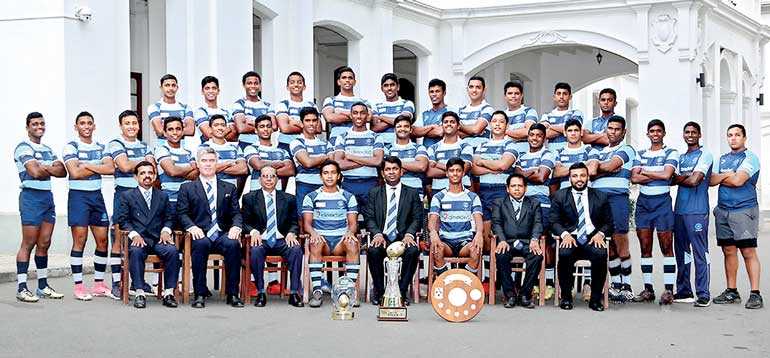 Wesley first XV pool
---
The Principal and Rugby Committee of Wesley College will felicitate its rugby playerswho have done their alma mater proud and raised its flag high in the recently-concluded rugby season, at a get-together to be held at the Cinnamon Grand on 30 August from 7p.m. onwards.

This function has been organised to salute the First XV Team who finished in fourth place in the 'A' Division League Tournament and as Runners-up in the President's Trophy Knockout Tournament, the Under-16 Team who finished as Cup Runners-up in the All Island Ten-a-Side Tournament and Under-18 sevens team, and to encourage them to even greater efforts and achievements.

The proud parents of each player are cordially invited to grace this happy occasion to celebrate their sons' successes by contacting the Organising Committee to confirm their participation.

Old boys and well-wishers are also welcome to join in the festivities.

The Guests of Honour will be former Sri Lanka cricket legend Roshan Mahanama and his wife.

Tickets are available at the school premises.For further inquiries please contactAshadWeerabangsa on 0773822931.

2019 first XV pool: MursheedDoray (captain), ThikshanaVithanage, ShehabPackeerally, AaqibThahir, Jenosha Mendis, Kavindana Perera, SahanSansaja, TharushaJayweera, Samuel Ogbebor, DinethDinuja, Hafiz Thabeeth, SritheyshThavarajah, Yohan Philip, Nisal Perera, Shannon Gunasekara, VishwaWelagedara, Shavon Fernando, RigeshMuralitharan, Shane Hopwood, Johann Ogbebor, RuchithHapugalle, RaveenFerando, NimshanLowrance, ErandaHarshana, Akinda Gammanpila, MirajMiskin, ShaveenJayawardana, Shehan Fernando, ThariduWalpitage, Dexter Goonethillaka, Mikail Lye, JeesaWijegunawardana, Ayomal Mahinda and Dilan Anthony Dason.