---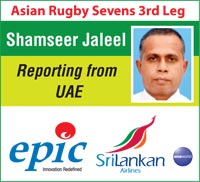 Sri Lanka Men's rugby team left for UAE last evening for the Al Ain, UAE for the third leg of the Asia Rugby Sevens which will take place on 26 and 27 November.
Before Sri Lanka, Head Coach of the National Men's outfit, Nilfer Ibrahim showed a lot of confidence in the side.

Speaking to Daily FT, Nilfer Ibrahim said: "We started soon after the Korean leg and each day we trained twice with a lot of hard work put in and we want to reduce our errors. We mainly concentrated on re-start and safe collection of the balls and I am very confident about the team. We want to end the tournament on a high note, we are targeting to play in the final. Our defence is also good, safe keeping of the ball and attack will be the priority."

Speaking further Nilfer said: "Side is well Balanced with youth and experience and the Boys are eager to end on top and prove a point in Asian Rugby."

Sri Lanka Men's will be in Pool A alongside champions in both legs, Hong Kong while other two teams would be Malaysia and China at the Asia Rugby Sevens at the third leg in UAE.

Sri Lanka who missed out on the first leg in Thailand displayed good skills to end on number four at the second leg which took place in South Korea two weeks ago. Sri Lanka beat UAE and China in the group stages but lost out to a physical Hong Kong outfit who were always being a major threat and blocking the path for Sri Lanka from moving forward to top the group stages.

In the semi-final they did well in the initial half but lost out on their steam in the later half against the host, South Korea. This put them in place for the third position play off but it was a tough day for the lads at office who were burnt out too much in the end losing out to Philippines to secure only the 4th place. To date Sri Lankan Men's best position being number three at the Asia Rugby Sevens history.

The side consists of 12 players and seven officials.
Touring Squad: Srinarth Sooriyabandara, Kavindu Perera, Tharinda Ratwatte, Nigel Ratwatte, Mithun Hapugoda, Anjula Hettiarachchi, Adeesha Weeratunga, Akash Madushanka, Dhanushka Dabare, Dinupa Seneviratne, Chathura Seneviratne and Sudaraka Dikkumbura
Head Coach: Nilfer Ibrahim
Manager: Commodore P.A.S.K. Pitigala
Masseur: Sanka Dilshan
Physio: Shafin Majid
Chairman Tournament Committee: Retd. Group Capt Nalin de Silva
Member Selection Committee: Col Kapila knowlton
NOC rep: Gamini Jayasinghe