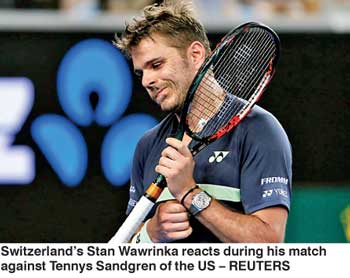 REUTERS: Former world number three Stan Wawrinka has withdrawn from the Miami Open and Indian Wells tournaments this month to continue his recovery from a persistent knee injury, the Swiss right-hander said on Thursday.

The 32-year-old curtailed his season in August last year after battling injury through the grasscourt campaign, which ended with opening round exits at Queen's Club and Wimbledon. The three-times grand slam winner returned to competition at the Australian Open in January but hobbled to a second round exit.

"They are both amazing events, but coming back from a big surgery after having played a few tournaments, I have discussed with my team that it is best for me to build on the progress and go back to practice," Wawrinka said in a statement.

"I've enjoyed being back on tour playing matches and this gives me even more motivation to go back on the practice court. My goal is to find my highest level again and in order to do that, I will keep working hard every single day."

Following his defeat at Melbourne Park, Wawrinka reached the semi-finals of the Sofia Open but followed that with early exits at Rotterdam and Marseille, the second through an injury retirement.