Eshan Pieris celebrated two podium positions during the inaugural Porsche Sprint Challenge Asia at the Sepang International Circuit in Malaysia held on 28 and 29 February.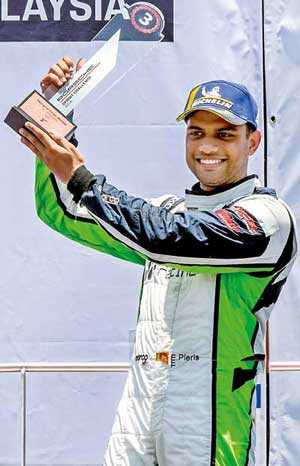 Eshan Pieris


The event, which served as a dress rehearsal for the upcoming Porsche Carrera Cup Asia season, saw Pieris, a former F3 Asian driver, gain his first real taste of the Porsche 911 GT3 Cup car in preparation for the new season of the Thailand Super Series.

In race 1, Pieris, driving for Team Absolute Racing, showed consistent improvement, crossing the finish line third with a comfortable margin over teammate Munkong Sathienthirakul of Thailand and closely behind his British teammate Jonathan Hoggard.

Starting from second place for the second race, Pieris had a strong start to the race, leading the way during the first two laps before Porsche veteran Martin Ragginger took over the top spot. He settled into a good rhythm and although he lost one more position to Hoggard, he still managed to return to the rostrum, collecting silverware for his second podium finish of the weekend.

Commenting on the weekend, Team Director Fabien Fior said: "It was an excellent experience for our drivers to take part in the Porsche Sprint Challenge Asia. We can look back at the last week with satisfaction for a job well done, although we are fully aware that the real task is still ahead of us. The Carrera Cup Asia is the toughest one-make series in the region, but Eshan has gained a good understanding of the Cup car. There are some areas we need to work on but we feel ready to go into Vietnam for the first event of the new

season."

Commenting on this achievement, Pieris said that this offered good experience and was a confidence-builder before the 2020 Porsche Carrera Cup Asia. He thanked his parents, his team, team management, mechanics and all those who supported him, particularly his fans from Sri Lanka.

The 2020 Porsche Carrera Cup Asia season kicks off on 4 and 5 April at the Hanoi Street Circuit in Vietnam in support of the first Vietnamese Grand Prix.

The Porsche Carrera Cup Asia is a prestigious 16-race championship which is the support event for three Formula 1 races in Vietnam, Singapore and Shanghai. With challenging F1 support races, thrilling street circuits and night races, as well as three-day race weekends packed with nonstop action, this is where drivers become champions.