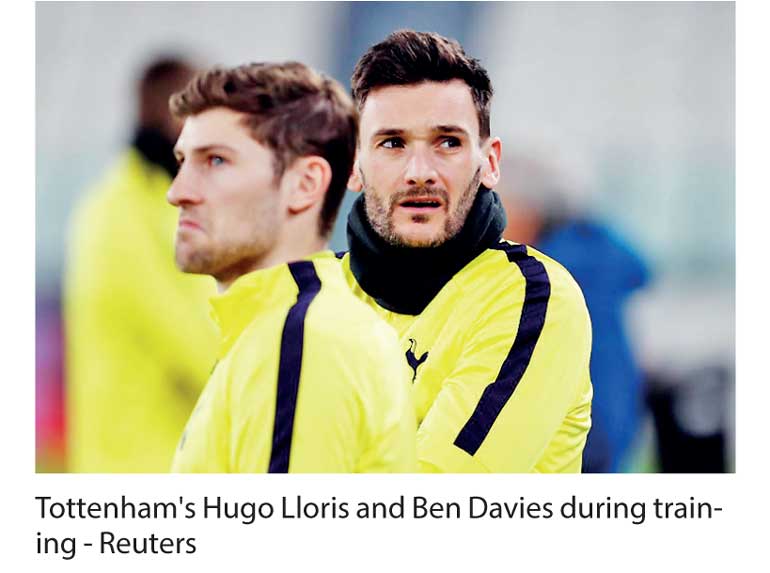 London (Reuters): Tottenham Hotspur goalkeeper Hugo Lloris says the team have arrived at the moment of the season when they can "win or lose everything", starting on Wednesday against Juventus in the Champions League.

Since Tottenham signed off the group stage of the competition with a 3-0 home victory over Apoel Nicosia in early December they have lost only once in 20 games.

Such consistency has taken them into fourth spot in the Premier league, the FA Cup quarter-finals and on the cusp of the Champions League quarter-finals.

A 2-2 draw in Turin last month means Tottenham are favourites to progress to the quarter-finals after the last 16 second-leg game at Wembley Stadium.

"It's true we have a small advantage because we scored two goals away from home," Lloris, who conceded twice in the opening 10 minutes of the first leg, told a news conference on Tuesday.

"But if you don't have the right energy, the right mentality and the right attitude things can turn very quickly."

Lloris said Tottenham's tight-knit squad has got "stronger and stronger" under manager Mauricio Pochettino and learned from the disappointment of failing to get past the group stage of the Champions League last season.

"Most of the players have been here two, three or four years together and we have many shared experiences," he said.

"I think we have arrived at the point where we have maturity and we know exactly the expectation from the manager and how he wants us to play football.

"Now it's just to enjoy because we are in the period of the season where we can win and lose everything we have worked for.

"We are in good shape, mentally and physically strong and we have good opportunity tomorrow against one of the biggest clubs in Europe. It's a great moment to show the real face of Tottenham, the state today of the team and the club."

A 0-0 or 1-1 draw would be sufficient for Tottenham to reach the last eight of the Champions League for the second time.

But Lloris says they will be positive.

"If you start to think too much and play for a draw, especially against an experienced team like Juve, you could be in trouble. The best way is to start sharp and like we usually do at home," the France international said.