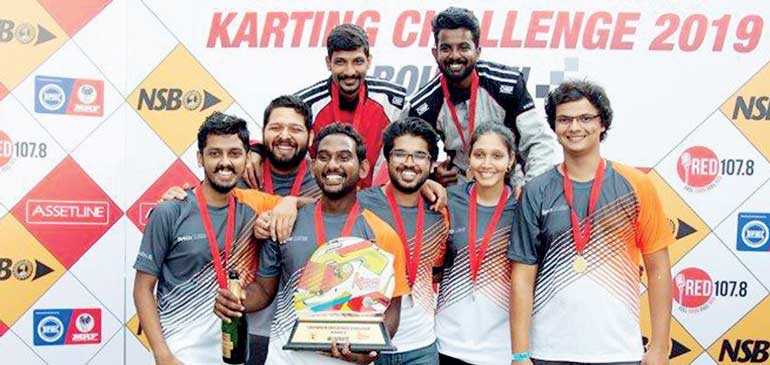 Winning team Sysco Labs

Second place winners SriLankan Airlines – Team Wide Body

Third place winners Sasianet

David Pieris Motor Company Director (Parts and Accessories) Jayantha Ratnayake handing over the trophy to winners

Scenes from the Corporate Endurance Race Round 2
---
The triumphant squad of drivers of Team Sysco LABS took home the winner's trophy last Saturday at the Corporate Endurance Challenge Round 2, held at the Sri Lanka Karting Circuit's (SLKC) international track in Bandaragama.
The team, which comprised Anjelo Senarathne, Ganindu Lakshan, Rishan Inusha, Shayne Weerakoon, Krishne Perera, Sapwan Mohammed, and Shiyanka De Zylva, completed 249 laps within the prescribed three hours, having maintained their lead from the word go.

SriLankan Airlines – Team Wide Body, who finished the race in 246 laps, was placed second, while Sasianet placed third, completing 245 laps. Team Pulsar from David Pieris Holdings Ltd. and team Brandix Essentials placed fourth and fifth, respectively.

The fastest male drivers race winner was Angelo Senarathne of Sysco LABS, while the second and third positions were won by Dinesh Pathirana of Team Pulsar and Nadeesha Mores of Assetline Capital, respectively.







Shiyanka De Zylva of Team Sysco LABS won the fastest female drivers race while Fiona Peiris of Sika Lanka and Rasika Shereen of Team Pulsar placed second and third, respectively. The teams that participated in the race were Sysco LABS, SriLankan Airlines – Team Wide Body, Sasianet, Team Pulsar from David Pieris Holdings, Brandix Essentials, Team Sika, SriLankan Airlines – Team Narrow Body, Team Assetline, Team Dilina Biz, and Team Red. The event was organised by SLKC Bandaragama and officiated by Ceylon Motor Sports Club. DPMC – MRF Tyres and Assetline Leasing were the Associate Sponsors of the event, while National Savings Bank (NSB) was the Official Banking Partner and Red FM, the Official Radio Partner.

The first-ever Corporate Endurance Challenge was held earlier this year in March, the success of which resulted in this race. The organisers intend to establish this as a multiple series championship challenge in 2020.

Endurance Karting is ideal for building team spirit, strategic planning as well as to leverage individual skills for collective success. It is therefore a great HR, networking, and bonding experience with the exciting prospect of bragging rights among business rivals.

SLKC is open for rental operations, providing the opportunity for karting enthusiasts to experience a professional world-class motorsports facility for the first time in Sri Lanka. A fleet of several types of rental karts are available for different skill levels for anyone who wants to try out the sport or simply have a fun-filled, thrilling experience. SLKC provides safety gear such as helmets and gloves. Karting is viewed as an entry point for future motorsport champions. Bambino karts and a separate track for children between the ages of four to seven are available to be driven under skilled supervision, while kids aged 8-12 years can enjoy the main track in Cadet karts. Youngsters aged 13 and above can enjoy karting and racing on the main track with adults. Other leisure activities, such as the air rifle shooting range, a swimming pool (including kiddie's pool), and a multi-cuisine fusion restaurant complement the karting experience.