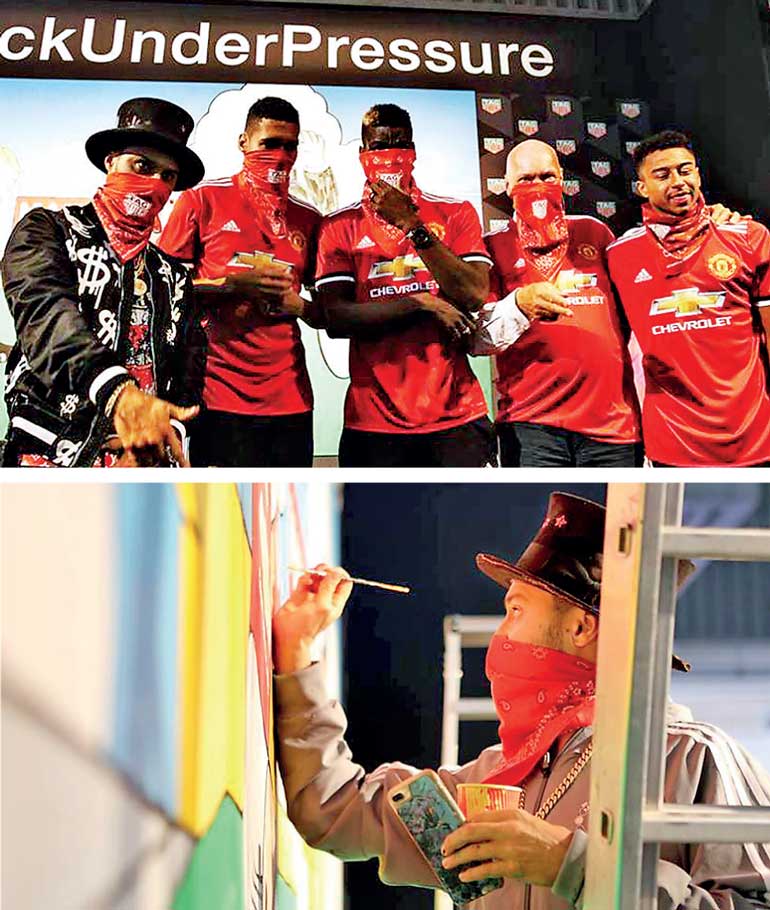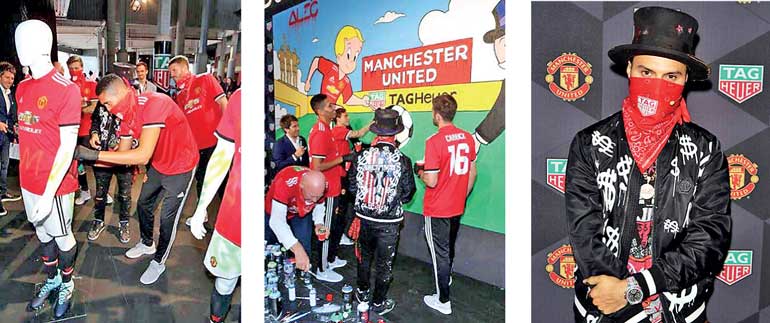 Manchester United players, their faces hidden, spray paint mural at Old Trafford's stadium with Alec Monopoly, Art Provocateur for TAG Heuer
In Manchester's iconic Old Trafford stadium, Alec Monopoly, Art Provocateur for TAG Heuer, created a one-of-a-kind mural, to be displayed at the stadium with contribution from Paul Pogba, Victor Lindelof, Jesse Lingard, Michael Carrick and Chris Smalling.

They were accompanied by Jean-Claude Biver, CEO of TAG Heuer and President of the LVMH Group Watch Division, who warmly encouraged and congratulated them on their finished artwork.

Wearing bandanas covering half their faces, they set to work to create this unique piece. The Manchester United players had the good fortune to be introduced to one of the big names in American Street Art.

The Mural is inspired by the Manchester United club's shield and insignia, not forgetting the added touch of the well-known character Mr. Monopoly, the short good-natured banker who Alec Monopoly casts within his work and who has now made a name for the artist.

Then it was Alec's turn to be introduced to football…and by the best players! The Manchester United players challenged him to dribble for one minute. Alec, a true football fan, took up the challenge without cracking under pressure.

Alec said: "I am a huge football fan and above all a fan of Manchester United. I came to watch the match incognito on Sunday, to soak up the atmosphere and see the fans. Being able to make a mark on the wall of this mythical stadium with the players was really enjoyable. It was surreal seeing the players wearing their bandanas and painting with me. Thank you Jean-Claude Biver for this unforgettable moment!"

Jean-Claude Biver issued this statement: "Being the Official Timekeeper of Manchester United and having such a space devoted to self-expression and provocation is a major achievement! Manchester United is the kind of football I love: they play attacking football, full of emotion for everyone's pleasure!"

Paul Pogba added: "I am really impressed by the piece created by Alec and it was an honour to be asked to add my own personal touch to the painting. I hope our fans like it and it brings a smile to all who see it."

Jesse Lingard said: "This was a really great experience and not something I have done or been asked to do before. We have a great partnership with TAG Heuer and I am grateful to them for bringing this collaboration together."

Michael Carrick said: "Painting such a large scale picture was a little daunting, especially in front of a crowd of people, but I think I did ok and I hope everyone who sees the mural enjoys it."

The work will remain in place, to delight of the players and the fans!

This offbeat moment of fun instrumented by TAG Heuer, combines two of its favourite areas of communication, art and sport. And what is more, this is the first time such an operation has been carried out at the Old Trafford Stadium. TAG Heuer, Swiss avant-garde since 1860!