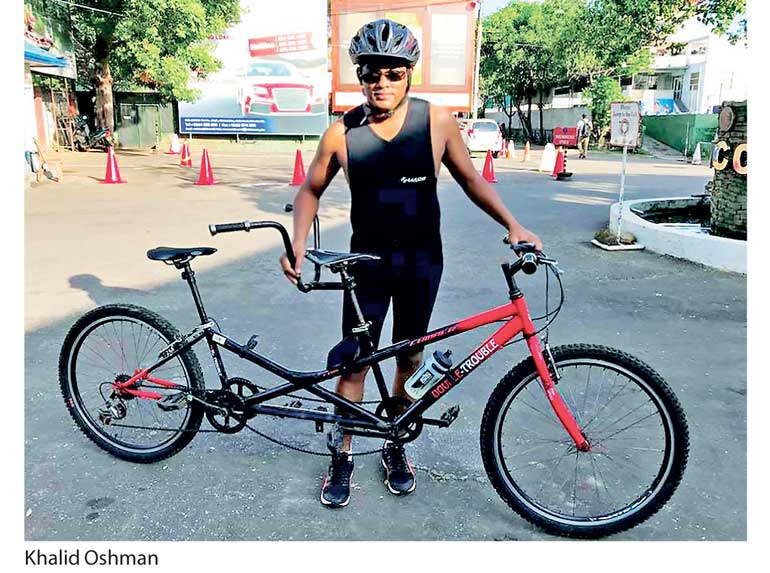 The entire staff of national carrier SriLankan Airlines hailed their colleague Khalid Oshman, the visually impaired athlete who has taken on the challenge of the Ironman 70.3 Triathlon World Championship Qualifying Race in Colombo on 25 February, a supreme test of endurance in three sports, consisting of a 1.9-km swim, 90 km bike ride and 21.1 km run.

Organised by the World Triathlon Corporation, the Ironman 70.3 consists of a number of qualifying half-triathlons held across the globe from which the very best will qualify for the final World Championships, to be held this year in Nelson Mandela Bay in South Africa.

Colombo is the only city in South Asia to host an Ironman 70.3 event. The '70.3' refers to the total distance in miles (113.0 km) covered in the race, which typically takes up to seven hours of gruelling competition to complete.

Khalid, who joined SriLankan a year ago as a Customer Service Officer at the SriLankan Aviation College in Katunayake, expressed his gratitude to the national carrier for its steadfast support for employing him and fully supporting his sporting career.

"I had applied for jobs at about 40 other companies but most didn't want to hire a person who is blind, although I had all the qualifications. But SriLankan Airlines was marvellous. The interview panel treated me like any other person. The Chairman, CEO and Head of Human Resources were especially supportive and my colleagues at the SriLankan Aviation College are marvellously supportive," said Khalid, 32, who lost his sight at the age of 26 when he was given the wrong medicine. His duties at the airline include answering e-mails and phone calls and generally carrying out the work of any member of the marketing team.

Khalid thanked the airline for its amazing support, including members of the senior management such as Primal De Silva and Bandula Weragama; and Lakmali Kahawatte who helped him immensely with planning and paperwork for his application and training.

He began training for the Ironman six weeks ago, swimming under the coaching of renowned coach Julian Bolling and running and cycling with French expat Denis Crassier. He is accompanied and guided throughout the competition's events by Shaki Edirisinghe, who interestingly has a hearing impairment. They train on a daily basis, with Khalid travelling to Colombo after work for 1.5 km of swimming at the NCC pool, then 10 km of running and cycling on the road around Torrington, usually getting back to his home in Kolonnawa at about 10.30 p.m.

Born in Kuwait, Khalid was adopted by a Sri Lankan family and moved to Sri Lanka. After completing his schooling, he entered the IT field and was also extremely active in social responsibility projects. He worked with the Red Cross as first a volunteer and then as a member of the Branch Disaster Rescue Team was involved in counselling projects and also trained in fire fighting and water safety.

The loss of his sight devastated him, but he was convinced by his cousin Siddiq Ahmad to pick up his life once again and he began to progress rapidly within a short period in gathering new skills despite his handicap, including working with voice-activated computer systems designed for those with visual handicaps.

Although he had not been a fan of sports in his youth, he took to various sporting activities as therapy for his handicap, including cricket, swimming, cycling and running, and now has many achievements to his credit. He was a member of the Sri Lanka squad at the 2017 Blind T20 World Cup in India.

He was a conspicuous member of the team which walked the entire distance of The Trail, the charity walk from South to North of the country and then later from East to West. He also competed in the Colombo Marathon, cycles for the CCC foundation and tours the country giving motivational speeches and counselling people.

SriLankan Airlines said it saluted the undying spirit of Oshman and all such special athletes, and wished him the very best in his sporting competitions and career.