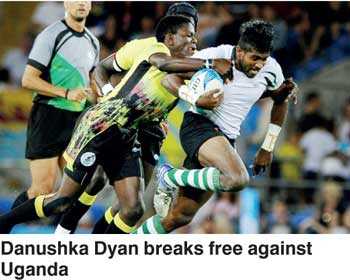 By Shamseer Jaleel in Gold Coast in Australia
The Sri Lanka rugby sevens outfit who was at the Commonwealth Games 2018 showed some class in the opening minute of play in all three games but lacked continuity and sustaining of the full game, with missing out on first tackles constantly occurring. It was evident that the Sri Lankan players were short of much-needed exposure at international sevens standards.

Out of the participating sides, almost all have World Sevens series exposure other than Sri Lanka and Malaysia. Even sides like Papua New Guinea and Uganda played in the World Sevens series qualification encounters at the Hong Kong Sevens a week ago.

Sri Lankan Rugby (SLR), going in the correct direction, is moving from fifteens to sevens which is the only way forward for the country at present. The national team will need to be in training without any break until July for the Asian Games 2018 which will take placein Jakarta, Indonesia. If things work according to plan Sri Lanka should bring back a team medal at this event which will be the first one if this occurs at the Asian Games history.

Sri Lanka will next face the Asian Sevens series in Hong Kong, South Korea and in Colombo in the three-leg event which will be used as a yardstick for the Hong Kong Sevens 2019 and the World Series qualification event with the 12 team which will take place concurrently at the Hong Kong Seven next year.

Rugby administrators should find similar events elsewhere in countries like Hong Kong, Malaysia or South Korea even at club level. It will be good to send the national outfit and give them some exposure in Asia or in Europe to meet the standards well ahead of the Asian Sevens series in 2018.
---
Singer League matches this week
This week there will be six matches down for decision in Singer League Under19 Segment 1A. All attention will be diverted towards the 74th Bradby Shield first leg between Trinity and Royal which will be played at the Royal Sports Complex.

20 April

Isipathana vs Wesley – CR & FC

St. Joseph's vs Kingswood – Havelocks

21 April

Trinity vs Royal – Royal Complex

St. Peter's vs DS – Havelock Park

Zahira vs Dharmaraja – Maradana

24 April

St. Anthony's vs. S. Thomas' – Nittawela

Meanwhile, Dharmaraja and Wesley postponed encounter will be played on 5 May at Longdon Place.