Asian Sevens Series - Hong Kong 2018
By Shamseer Jaleel reporting from Hong Kong

The Sri Lankan men's Sevens outfit will lock horns with the Chinese outfit in the opening game of the Asian Sevens Series 2018 first leg which will kick off in Hong Kong today at the Hong Kong Football Club (HKFC).

Later in the day they will meet Asian Games 2018 silver medallists Japan. Meanwhile, the gutsy women's team from Sri Lanka will play a physical Kazakhstan outfit in the opening encounter of the Asian Sevens Series in Hong Kong today.

The men's team will be without some big names such as Ranjan, Muthuthanthri, Ratwatte and Jason but still possesses a good and balanced unit for the Hong Kong leg. Dixon and Heenakankanmge coming into the outfit is a major boost for the Lankans as the two youngsters are no strangers to the conditions in Hong Kong, having played there earlier in the junior and senior segments.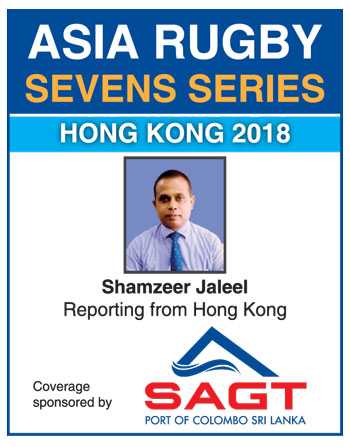 Sri Lanka, who were narrowly beaten 12-10 by Japan in the Asian Games 2018 in Indonesia, will come out with huge confidence for this first leg. Their encounter against the Chinese outfit will be vital in order for them to secure a cup semi-final berth later on Day 2. Taipei looks the weaker team in the group which will be dominated by Japan who will return with their expatriates for this series. Former Antonian and Havies youngster Dinuk Amarasinghe will make his senior debut for the country.

In 2017 Sri Lanka finished fifth in Hong Kong before a successive fifth finish in South Korea. They saved their best for the last leg back at home in Colombo, finishing third after losing to eventual winners Hong Kong in the cup semi-finals. Having appeared in two cup finals in 2016 as well, Sri Lanka know they have the chance to make history. Hong Kong, after their Asian Games 2018 gold medal win, are poised to head their pool.

The top two teams on aggregate in the Asian Sevens Series 2018 will book their berth for the Hong Kong Sevens 2019 qualification round in April next year.

The Japanese women won both of the women's events in 2017 to win the overall title while Hong Kong (in Sri Lanka), Japan (in Hong Kong) and South Korea (in South Korea) won the individual events with Japan taking the overall title. For the women's competition this year the series will have extra interest as the highest ranked side except for China will qualify to compete in the Kitakyushu Sevens.

Additionally, the three highest ranked sides except for China will get a chance to qualify for the World Rugby Women's Series in the Hong Kong qualifier in April 2019. This gives an outside chance for the Sri Lankan women's outfit, who have been hard at training during the last three months under Sudath Sampath but lack match practice as they missed out on the Asian Games in Indonesia. This weekend's tournament in Hong Kong begins with Asian Games bronze medallists Kazakhstan taking on Sri Lanka in the women's segment.

Sri Lanka women's skipper Sandeepa Hemakumari, speaking to the Daily FT in Hong Kong, said: "I have been playing for the last 10 years and I'm proud to be appointed as the skipper of the outfit. Further, I am getting the fullest support from the past three captains in the team playing alongside me. Last we played in the Borneo Sevens but feel that our preparation for this series has been even better than the previous year's. We want to have a perfect start and get the better of Kazakhstan in the opening game. The women's outfit is sponsored by South Asian Gateway Terminals (SAGT).

Today

Men's

Sri Lanka vs. China (11.28 a.m.)

Sri Lanka vs. Japan (2.46 p.m.)

Women's

Sri Lanka vs. Kazakhstan

(10.00 a.m.)

Sri Lanka vs. Singapore

(12.56 p.m.)

(All Sri Lankan times)