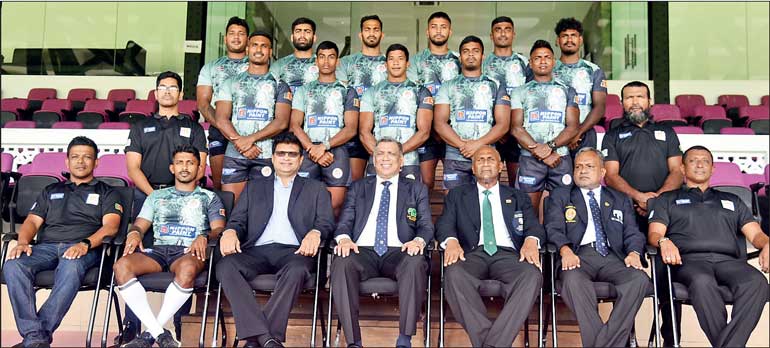 Sri Lanka Mens outfit with the offcials
Sri Lanka Womens outfit with the officials
---
By Shamseer Jaleel
---
Sri Lanka Men's and Women's sevens outfits on Wednesday left for Seoul, South Korea for the Asia Rugby Second leg which will be played at the Namdong Stadium on 12 and 13 November.

Speaking to Daily FT, Sri Lanka Men's Head Coach Nilfer Ibrahim said: "We trained for two weeks with the squad which is a well-balanced side. We did not get the same squad as the Commonwealth Games 2022 due to some injuries plus some not available due to personal reasons. But we have got a balanced squad with two of them making their debut for the country.

"Dharshana Dabare (Air Force) and Akash Madushanka (Police SC) will be on their debut tour. This will be a good occasion for them to prove themselves. We are in a tough group but our aim is to take it game by game in the first round where we need to play UAE, China and Hong Kong. We want to end in the top 4 in this event and be well prepared for the last leg in UAE. I Like to thank Sri Lanka Rugby (SLR) for all the support."

Speaking to Daily FT, Sri Lanka Women's Head Coach Saliya Kumara said: "We had nearly 17 days training. At the Commonwealth Games 2022 we could not do well but that experience will help the players along with some senior players too being drafted into the squad. We have a well-balanced side. In The Hong Kong and Kazakhstan game on day 1 we need to win to end in the top two to qualify for the semi-finals in the Cup encounter. We hope to beat them. In the Asian sevens last time we ended at number six and this time around we want to be in the top 4."

"All the players are physically and mentally fit for this tour and our expectations are for a better performance. I would like to thank Sri Lanka Rugby for all the support towards participating in this leg in Korea," he added.
Pic by Lasantha Kumara