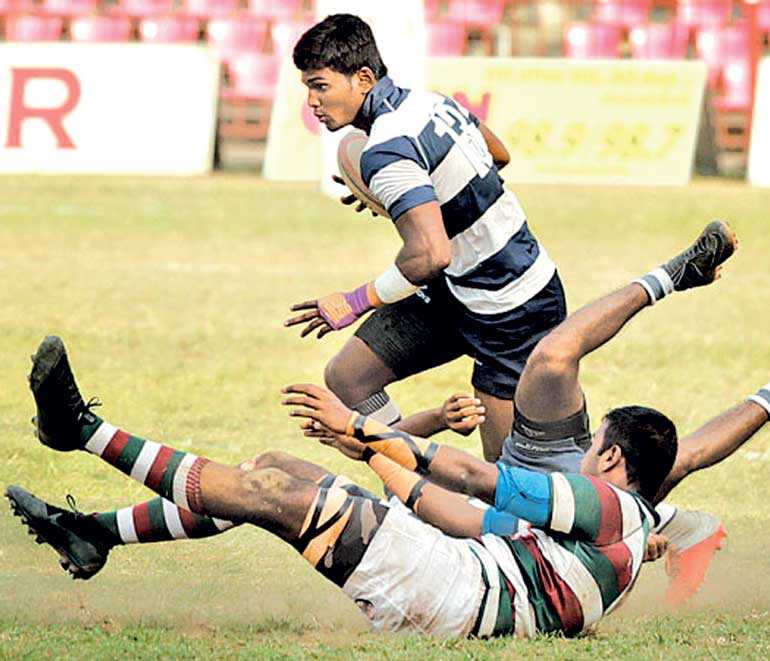 Joes the only unbeaten team in round
---
By Shamseer Jaleel

Singer Schools Rugby League 2019 round 2 will kick off on 22 April with a break of three weeks with Nilfer Ibrahim coached, led by Tharindu De Alwis, Joes being the only unbeaten side in the 12 top teams after their round 1.

St. Peter's and Royal ended their group on number 1 and 2 while Joes not only led their group but also remained as unbeaten in their five matches. Isipathana was placed number 2 in their group. St. Thomas, Wesley, Trinity and Science were the other four teams to secure their Cup segment berth. KatugastotaAntonians, Kingswood, Maliyadeva and Zahira will play in the Plate segment.

Trinity will need to wait till 11 May to play their first home game in round 2 when they lock horns with Royal College at Pallekelle at the 75th Bradby Shield encounter.

Meanwhile the Plate segment will be contested with majority of them from Kandy. Kingswood, Dhramaraja, St. Anthony's, Kingswood, Vidyratha and Sumangala will lock horns from Kandy while Zahira, Maiyadeva and DS will be the other two teams in the Plate segment.


20April

Sumangala College

vs Kingswood College - Nittawela



21April

Vidyartha College vs Zahira College - Nittawela

Maliyadeva College vs DS Senanayaka College - Kurunegala



22 April

Dharmaraja College vs St. Anthony's College -Nittawela



27 April

Dharmaraja College vs Zahira College - Nittawela

Sumangala College vsMaliyadeva College - Pallekele



29 April

DS Senanayaka College vs Kingswood College

Havelock Park 4 p.m.



29 April

Vidyartha College vs St. Anthony's College - Nittawela



1 May

Sumangala College vsDharmaraja College - Pallekele



3 May

Vidyartha College vsSumangala College - Nittawela



4 May

Maliyadeva College vs St. Anthony's College - Kurunegala



5 May

Zahira College vs Kingswood College - Zahira Grounds

Dharmaraja College vs DS Senanayaka College - Nittawela


12May

Zahira College vsMaliyadeva College - Zahira Grounds

Kingswood College vs St. Anthonys College - Nittawela



14May

DS Senanayaka College vsVidyartha College - Havelock Park