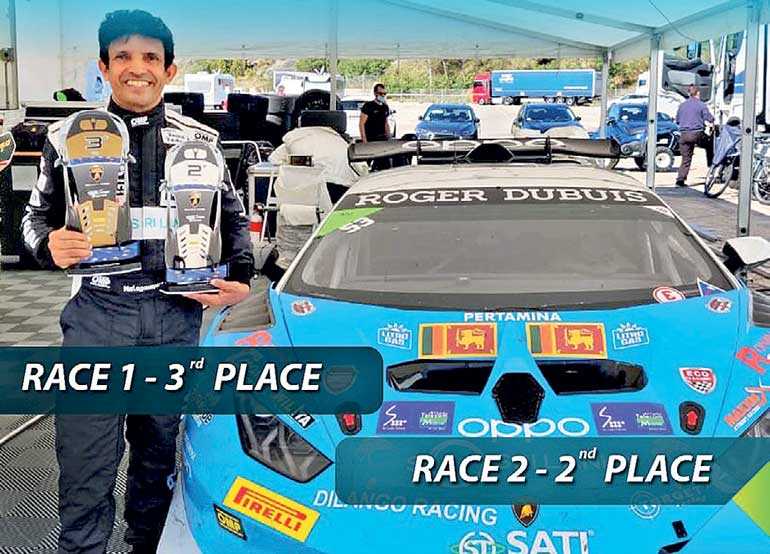 Dilantha Malagamuwa
Continuing its support in nurturing local talents to spark internationally, the SLT group is proud to be with Dilantha Malagamuwa, Sri Lanka's automotive racing legend who has brought countless glories to Sri Lanka for the most anticipated Lamborghini Super Trofeo 2020 Championship.

Dilantha has been an iconic figure in the motoring industry, representing Sri Lanka in international racing events. Dilantha's love and passion for the country and his fellow citizens, as well as his diligence and courage, have surpassed all pit stops, enabling him to achieve great success in international motoring events. Over the years, Dilantha has shaped the local motoring industry with his expertise and has inspired thousands of youngsters to unlock their fullest potential.

"As the National Telecommunication Provider who has made global presence, we feel privileged and honoured to partner with Dilantha Malagamuwa who has taken Sri Lanka to the international motoring world. As we embark on a new journey to bring glory to the island nation, we wish all the very best for the champ on behalf of Sri Lanka and fellow citizens."

At present, Dilantha is currently competing in the Lamborghini Super Trofeo 2020 and has won second in the second race of the event. SLT and Mobitel is proud to be with Dilantha and wish him the very best of luck for this event and his future endeavours.

Racing in his Lamborghini for the team Dilango Racing, Dilantha is a GT3 Asia Champion and a Triple Malaysia Super Car GT Champion. Making history as the First Sri Lankan racing driver to win an International Motor Racing Championship. Dilantha became the first non-Japanese Asian driver to compete in Formula Nippon and Japan GT500 and GT300, winning the N1 Championship in Japan in 1995 and winning the Tokachi 24 hours race three times.

Malagamuwa has also done several 24 endurance races around the Globe including USA, Dubai and finishing 2nd overall in the 24-hour Bathurst race in Australia. Up to now Dilantha has over 150 Podiums in international races and over 200 in local races.