---
Dubai-based IPG Company secures event sponsorship
By Sa'adi Thawfeeq

Innovative Production Group (IPG), a long standing company with a collective experience of 50 years and based in Dubai has secured the event sponsorship (the entire package) rights for the next five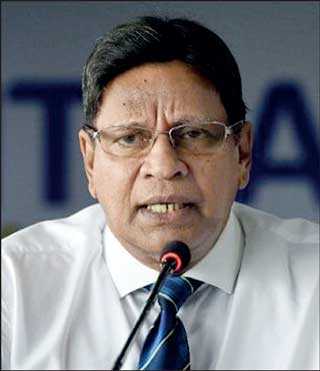 Sri Lanka Cricket secretary

Mohan de Silva


years for Sri Lanka Cricket's Lanka Premier League (LPL) T20 Tournament, which is scheduled to kick-off from 28 August.

The company will handle every aspect of the LPL T20 other than the cricketing part which SLC will deal with.

"As event sponsor they will run the whole show. They take over the hotels, players, match referees, commentators, etc. They will be directly recruiting the overseas and local players. Our part is to run the cricket here, provide the grounds, umpires and other facilities and provide the Players' list," said Sri Lanka Cricket secretary Mohan de Silva. The agreement is expected to enrich the SLC coffers by over $ 10 million over the next five years.

"IPG will pay SLC close to 2 million US dollars for each of the first two years and in the remaining three years the figure will be enhanced by an aggregate of another ten percent," said De Silva.

"They are also entitled to the broadcasting rights but they have to give ten percent of it to SLC. What they gain from broadcasting the 23 matches they must pay us ten percent," he said.

What swung the decision in IPG's favour were several factors.

"Originally there were eight companies who showed interest to become the event sponsor. We requested for a $ 10,000 non-refundable deposit for Request for Proposal (RFP) to enable them to bid and they also had to sign a Non-Disclosure Agreement (NDA)," explained De Silva.

"Four paid the $ 10,000 deposit but only two submitted bids – IPG and a company called Off-Spin from India. IPG were the only party that complied with all the requirements and Off-Spin their details was incomplete," De Silva continued.

"We had a technical committee doing the evaluation, and also the financial evaluation had the background checked and the financial stability. All those were looked into and one added advantage for IPG is that they are the production right holders for the FTP (Future Tours Program) for Sri Lanka cricket and their credibility was already known through this commitment," he said.

The signing of the agreement is expected to take place shortly and according to De Silva, IPG is expected to make the minimum guarantee events rights payment for the first season in full at this occasion. It will be done before the start of the tournament each year.

The 23-match League will be played at four international venues in Sri Lanka - the R Premadasa International Cricket Stadium, Rangiri Dambulla International Cricket Stadium, Pallekele International Cricket Stadium, and Sooriyawewa Mahinda Rajapaksa International Cricket Stadium.

Five teams named after the cities of Colombo, Kandy, Galle, Dambulla and Jaffna will participate in the League where over 70 international players and 10 top notch coaches have already confirmed their availability to take part along with leading Sri Lankan national players.