By Sa'adi Thawfeeq
---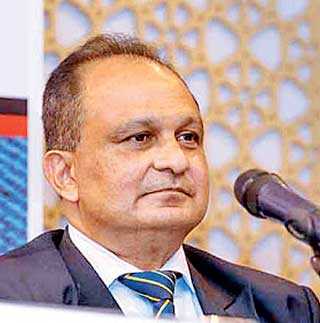 SLC CEO Ashley de Silva
---
With the two-Test series against West Indies (WI) scheduled to be played in the Caribbean in February-March coming to an unexpected standstill due to two members in the Sri Lanka (SL) training camp being tested positive for COVID-19, SL's next Test series will be against Bangladesh in April.
"Bangladesh is coming in April and the tour is 90% confirmed. They will play two Tests which is part of the World Test Championships," said Sri Lanka Cricket (SLC) CEO Ashley de Silva.
The Bangladesh tour was postponed from October last year following a stalemate between SLC and the Bangladesh Cricket Board (BCB) over quarantine requirements.

On that occasion the Lankan Health Authorities insisted on a quarantine period of 14 days with the players' movement strictly limited to their hotel rooms – a condition to which the BCB refused to agree.

"The quarantine period is slightly reduced on this occasion. We will be going according to the Lanka Premier League (LPL) of seven days for the players and after the tenth day they can start playing cricket. That's how we conducted the England tour," said de Silva.

According to the CEO, both Test matches are scheduled to be played at Pallekele – Kandy.

"Bangladesh on arrival might go to Dambulla, play a warm-up game there and then go to Kandy. That is what is planned, but nothing has been finalised yet," he said.

The two Tests are to be played after the Sinhala and Tamil New Year.

Bangladesh are currently engaged in a two-Test series at home against WI.


WI TOUR

Meanwhile, SLC has not given up hopes on the WI tour and have been in touch with Cricket West Indies (CWI) of a possibility of holding the tour on a later date.

"We are looking at all the alternatives of going ahead with the WI tour. A decision has not been made because the national pool players and coaching staff are due to undergo a PCR test on 10 February again. Then we might be able to take a call on how we want to move forward," said de Silva.

"We are discussing with CWI and internally with our Cricket Committee, and ExCo will also have to take a decision. The cricketers are also going through challenging times; they cannot carry out proper training because of the COVID-19 situation. You have to give them time and you have to keep them motivated because at the end of the day if you keep criticising the players their motivation levels will also come down," he said.