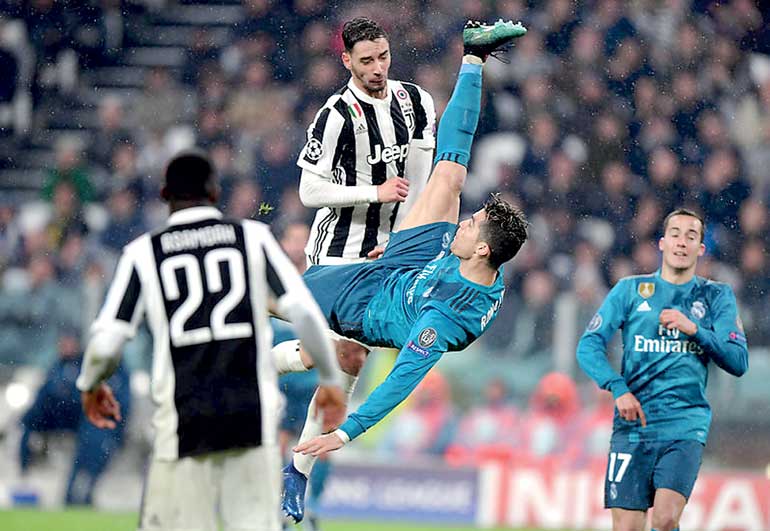 TURIN (Reuters): Cristiano Ronaldo scored with a bicycle kick which was outrageous even by his standards to lead Real Madrid to an emphatic 3-0 win away to Juventus in their Champions League quarter-final, first leg on Tuesday.

With his back to goal, Ronaldo launched himself into the air to meet Dani Carvajal's chipped ball and produced a perfectly-executed bicycle shot which flew past keeper Gianluigi Buffon and put Real 2-0 ahead.

The goal was greeted by applause even from Juventus fans who only minutes earlier had hounded and insulted Ronaldo when he shot wide.

The Portuguese had got Real off the mark with a third-minute goal, scoring for a record 10th successive Champions League game, and Marcelo was also on target as Juve's five-year unbeaten home record in European competition crumbled.

A red card for playmaker Paulo Dybala in the 66th minute completed a miserable evening for the Serie A champions, beaten 4-1 by Real in last season's Champions League final.

Juventus had not lost at home in Europe since Bayern Munich's 2-0 win in April 2013, a 27-match run, but that record was quickly under threat as their usually impregnable defence was split open with nonchalant ease after only three minutes.

An uncharacteristic mix-up between Buffon and veteran defender Chiellini started a Real attack which ended with Ronaldo's astonishing goal, his 14th in the Champions League this season, in the 64th minute.

Ronaldo nearly grabbed a hat-trick and although Juve escaped further damage they face an almost impossible task in next week's return.