ESPNCricinfo: Rangana Herath, the most-successful left-arm bowler in Test history, will retire after the first Test in Galle, having told the selectors that he is reluctant to play through an entire three-Test series.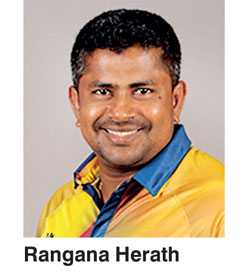 Galle is a sentimental venue for Herath – not only did he make his Test debut there in 1999, he also needs only one more wicket to join Muttiah Muralitharan in having taken 100 wickets at the ground. It was at this venue that Herath also reignited his career at the age of 31, taking 10 wickets in a Test against Pakistan in 2009, after having been suddenly called up to the Test side while he was playing league cricket in England.

Herath, 40, has not played a complete three-Test series since January 2017, having since left two India series early due to injury, before playing no more than one of the three Tests in West Indies in June this year. Herath has had to manage knee injuries for several years now; the strain of carrying Sri Lanka's spin attack since the retirement of Muralitharan is understood to have caught up to him.

A beloved figure across the island, Herath's retirement will also bring to an end one of the most remarkable careers in modern cricket. Not only is he the 10th most successful Test bowler in history with 430 wickets, all but 36 of those dismissals came after he had turned 31, with Herath having struggled to maintain a place in the Test side in the first decade of his career.

No bowler has also taken as many as his 230 wickets after turning 35. If he takes five wickets in his final Test, he could move up to seventh on the all-time list, passing Richard Hadlee (431 wickets), Stuart Broad (433) and Kapil Dev (434).

Herath is also the last active Test cricketer to have made his debut in the 1990s.

The Galle Test begins on 6 November.