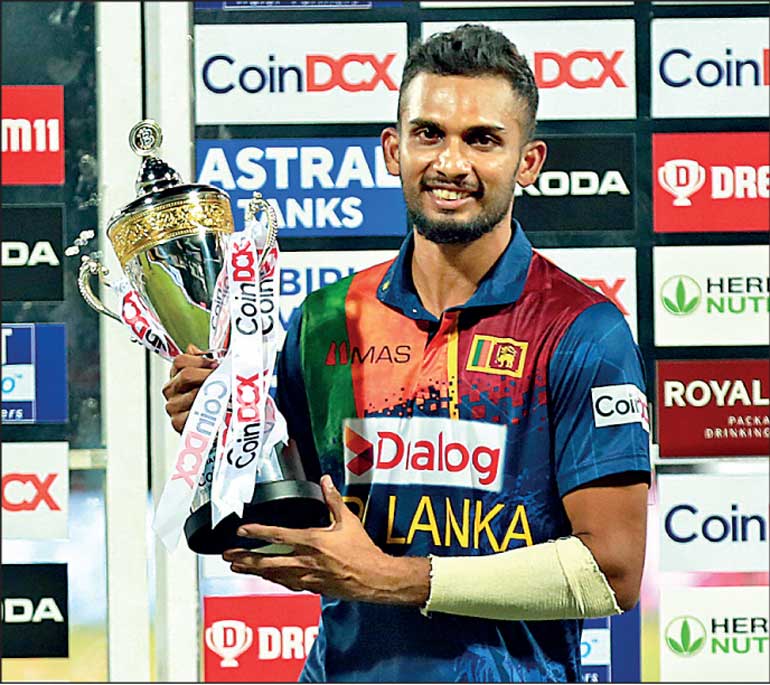 Dasun Shanaka with the Coin DCX Trophy after winning the T20I series against India 2-1​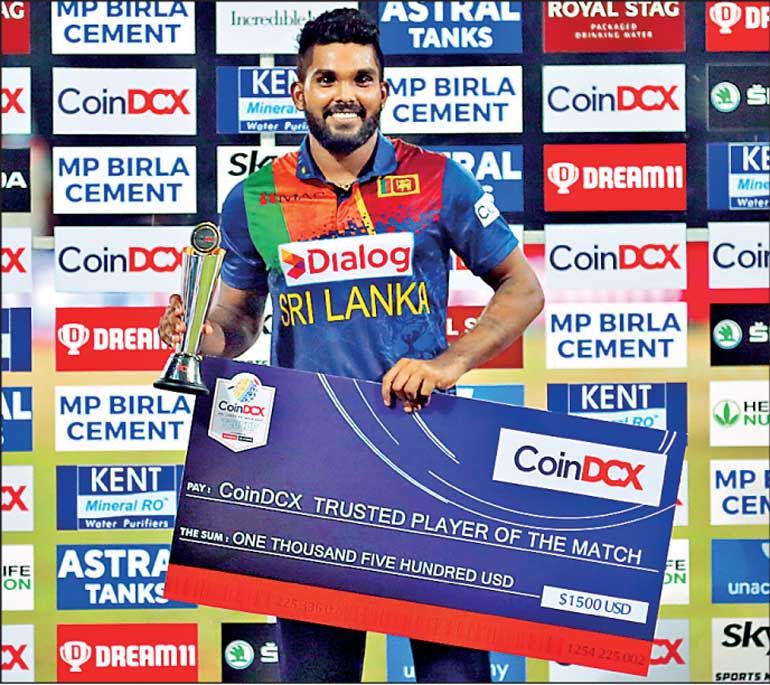 Player of the Match and Player of the Series Wanindu Hasaranga
---
By Sa'adi Thawfeeq
---
Sri Lanka's victorious T20I captain Dasun Shanaka said that it was pleasing to win two T20I series back to back under his captaincy, but bigger challenges lay ahead for his team and they must be prepared to face them.

"It is very pleasing to win two T20I series under my captaincy but we have bigger challenges ahead of us. The two series we won against Pakistan (in 2019) and India (on Thursday) are now just history. It won't be important for us when we move forward. If we do the good things right, our cricket will improve," said Shanaka after his team had beaten India 2-1 to take the 3-match T20I series at the R. Premadasa Stadium.

"I have got a good young side, they are prepared to take up the challenge at any time. As a captain, when I get onto the field, I have the confidence of the players and I think as a captain, I discharged my duties in the series. I had a lot of bowling options but utilising the players according to the situations is important," continued Shanaka.

"In the dressing room, during practices, we did a lot of good things. We did not practice on granite for a long time so we used it. As captain, I told the players to practice the sweep and the reverse sweep. These little things benefited us to bring the team to this level. The environment is also important, not only the 11 players who take the field but also the support of the other players in the squad. We discussed a lot of positive things, and as captain, you must know how to handle your players properly," he said.

Questioned about his captaincy, Shanaka said: "You cannot judge the value of a captain from just one or two series. We must face the challenges that lie ahead of us and prepare for them as a team."

Sri Lanka's next challenge is against South Africa in September, where they host them for three ODIs and three T20Is.

Praising the efforts of leg-spinning all-rounder Wanindu Hasaranga, Shanaka said: "He is a cricketer who has matured fast. That's how it should be. During the Indian series, I saw players like Dushmantha Chameera, Avishka Fernando and Chamika Karunaratne improve in their performances and also the experience of Dhananjaya de Silva. Their contributions were important. If you take Wanindu, I think very soon he will become the no. 1 ranked T20 bowler in the world."

Shanaka said that he had a chat with Indian coach Rahul Dravid as well as the Indian captain Shikhar Dhawan, who spoke to the players after the third and final T20I passing on useful hints and tips on how he prepares for a match, game planning and situation handling, which are very important. "As captain, it was also important for me to know about them. They have even mastered the deep breathing pattern. I had this great desire to get someone of Shikhar's experience to talk to our young players so that they can learn how to improve their game. We need to get the experience of cricketers from other countries as well as our past cricketers if we are to move forward as a team," said Shanaka.