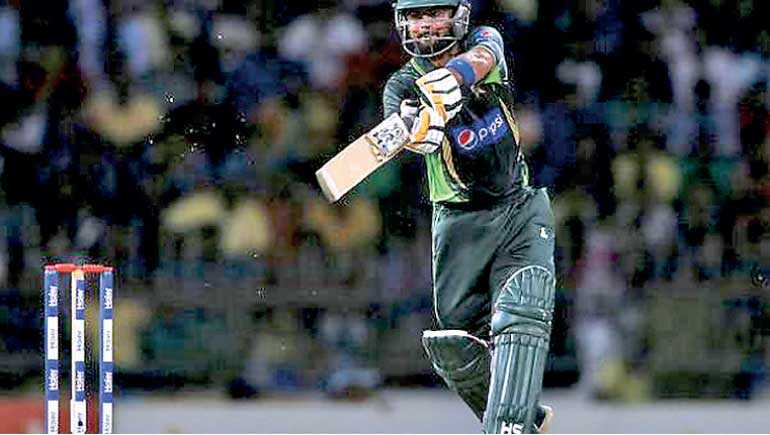 FILE PHOTO: Pakistan's Ahmed Shehzad hits boundary during their first Twenty 20 cricket match against Sri Lanka in Colombo - REUTERS
Reuters: Pakistan have long been regarded as one of cricket's most unpredictable sides, but now their long-suffering army of fans can finally enjoy the benefits of a new level of dependability, at least in the shortest format of the sport.

Consistency has never been a strong point for Pakistan, who, over the years, have built a formidable reputation as a side with a legendary ability to self-destruct.

Their penchant for snatching defeat from the jaws of victory has made supporting them a health hazard, but under Sarfraz Ahmed's leadership, Pakistan have turned into a winning machine in Twenty20 internationals.

When they completed a 3-0 whitewash over New Zealand earlier this month, it marked a team record 11th consecutive series victory and consolidated their position as the world's top-ranked Twenty20 team.

"They have been outstanding for a long period of time and the ratings are fair. They are the number one..." New Zealand captain Kane Williamson said after losing the series in the United Arab Emirates.

Pakistan impressed early in the format, finishing runner-up in the inaugural World Twenty20 in 2007 before winning the title two years later.

However, a failure to reach the knockout stages of the tournament in 2016 prompted important changes in personnel, with Sarfraz being elevated to the captaincy and South African Micky Arthur replacing Waqar Younis as coach.

Since then, Pakistan have won 29 of 33 Twenty20 Internationals.

"The difference in this team is that we have a host of new faces, so the energy level is very high," Sarfraz told reporters prior to the series against New Zealand. "The main difference is our fielding, which has really improved in the short format. We're now taking a good catch or effecting a run out at the right time in a match. It's a significant improvement."

Their excellence in the field is a huge boost for a team that often struggled to hide their slower movers and they also seem to have struck the right age balance.

Paceman Shaheen Afridi (18) and all-rounder Shadab Khan (20) hold immense promise, while Babar Azam and Hasan Ali (both 24) as well as Fakhar Zaman (28) look at their prime.

Yet they can always turn to Mohammad Hafeez (38) and Shoaib Malik (36) when they need advice from an older head.

The team have built a solid game based on their versatile bowling which is complemented by a consistent batting philosophy best illustrated by Babar, currently the top-ranked Twenty20 batsman in world cricket.

The Pakistan Super League (PSL) also played a key role in fast-tracking new talents.

Frozen out of the Indian Premier League (IPL) because of political bitterness between the nations, the players have used the PSL to learn from foreign players and coaches.

"With three years of the PSL under our belts, we can see the difference in the way the Pakistani youngsters are performing in a confident manner, and adapting so well at the international level," former captain Misbah-ul-Haq told PakPassion.net.