---
Right of reply
This is with regard to the letter titled 'National Olympic Committee'appearing in the Daily Financial Times sports pages on 16 January, Wednesday; sent in by one Nihal Weeraman, which is supposed to be a sequel to the letter sent by one Jayantha Gunawardena in the Daily FT of 10 January.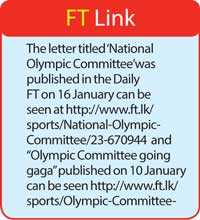 First and foremost it must be said that the true character of a person is depicted by his action and readiness to people and not his personal life.

One could argue in any way, but, all IOCs are governed by the Olympic Charter and so is the NOCSL and it's atotally independent entity.Yet, the NOCSL finances are audited on a very regular basis.

We agree that the last Asian Games (2018) was not a profitable exercise and failed to win a medal, buteven in Guangzhou, China in 2010 and in Incheon, South Korea in 2014 they faced similar fates. Yet, only a few moons prior to that Sri Lanka was placed 31st with one Silver and five Bronze medals at the last Commonwealth Games. It was Sri Lanka's best performance at the Commonwealth games since the country won three medals at the 1950 empire games, the predecessor of the modern Commonwealth games.

Besides that, in Sri Lanka won a medal at the last Youth Olympic Games in Bueno's Aires, Argentina, when Parami Marisstella won a Bronze medal in the 2,000m steeple chase event – only the second Olympic medal in the new millennium, after legendary Susanthika Jayasinghe won a Silver at the 2000 Olympics in Sydney, Australia.

We are more than sure that Mr. Weeraman has missed a cue where the Olympic Selection is concerned. Even under the Sports Law of this country, the President Suresh Subramaniam and Secretary General Maxwell de Silva are automatic choice as they are ex-officio of the NOCSL.

It also must be reiterated that developing athletes for medals for different sports is the responsibility of the respective Association and the Department of Sports Development of the Ministry of Sports and NOCSL is only a facilitator.