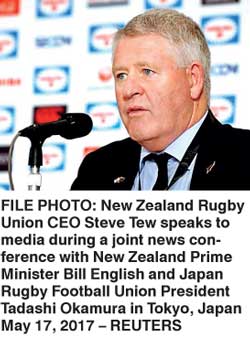 REUTERS: New Zealand Rugby took an unprecedented step in linking up with a foreign club on Friday, announcing a co-operation agreement with England's Harlequins that they hope will boost revenues and enable them to compete with the cash-rich European game.

The agreement is principally commercial and will allow NZR to leverage off the larger markets in Britain and Europe, a NZR spokesperson said.

"This is new territory for New Zealand Rugby and this unique relationship will open some useful connections in that part of the world," NZR Chief Executive Steve Tew said in a statement on Friday.

"With its strong ex-pat community, London is of key strategic importance to New Zealand Rugby."

Tew added the two organisations would also co-operate in a number of other areas, including coaching.

The agreement came on the back of NZR announcing a record profit of NZ$ 33.4 million (17.6 million pounds) on the back of a successful British and Irish Lions tour last year. Tew, however, warned that type of revenue would not be seen again for another 12 years and NZR had to manage their costs and seek new commercial opportunities.

NZR was also getting drawn into a more intense battle with northern hemisphere clubs to retain talent, despite the strict policy of selecting only locally-based players for the three-time World Cup champions All Blacks.

While in the past many of those players leaving New Zealand did so towards the end of their careers, in the last 18 months All Blacks coach Steve Hansen has lost a large number who would be considered still in their prime.

Tew also said earlier this week he was concerned at European clubs targeting teenagers.

Troubles at pay broadcaster Sky Television could also have an effect in the future because a substantial portion of NZR's annual income of about NZ$ 200 million stems from a lucrative five-year television agreement with Sky TV that expires in 2020.

Despite Sky's stranglehold on most live sports rights in rugby-mad New Zealand, the broadcaster's share price slumped nine percent on Wednesday after it announced a declining subscriber base.

Chief executive John Fellet also added the company was in "a fight of our lives" as it battled with increased competition from streaming services.