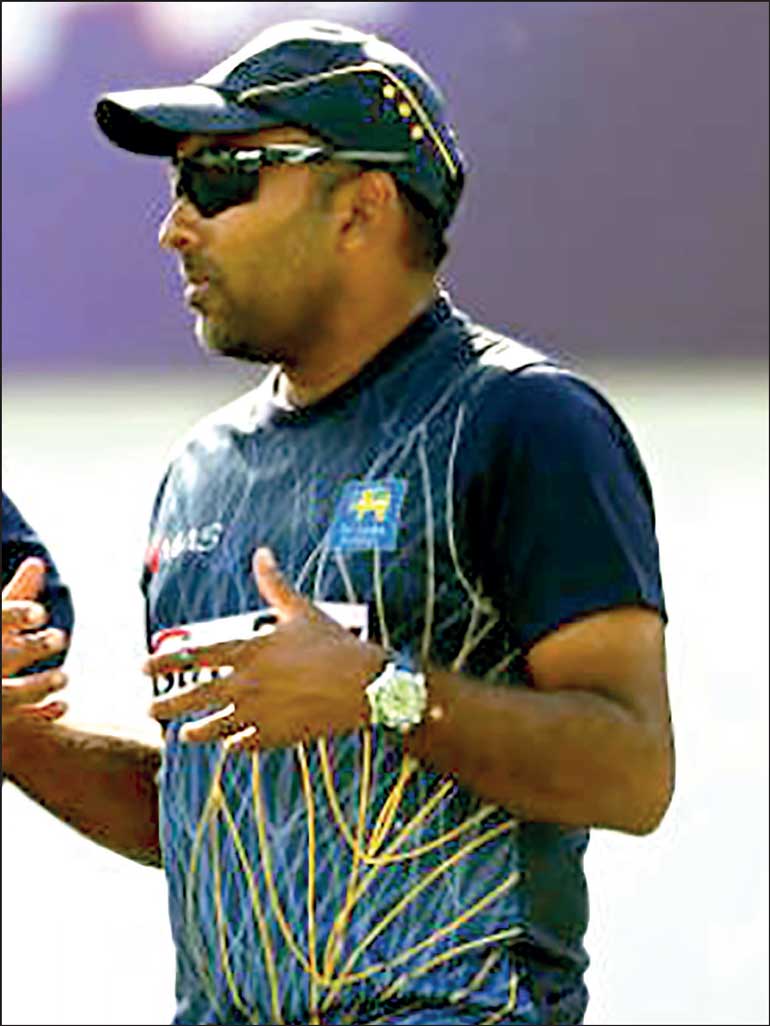 Mahela Jayawardena 
---
By Champika Fernando 

in Sharjah

Mahela Jayawardena's contribution to cricket is immense. He has managed to best his excellent international playing career with an equally impressive coaching stint in post-retirement, leading Mumbai Indians to three titles in five attempts at the Indian Premier League and also helming Southern Brave to win the inaugural The Hundred cricket tournament in England.

The 44-year-old Sri Lankan legend is currently with the Sri Lanka national team as a consultant, helping them find the missing pieces of the jigsaw in a bid to end their long transition.

Although his presence in the dressing room is limited to the qualifying round, as the former skipper will return home to see his daughter after nearly five months, his impact has been extraordinary. Both players and coaching staff are crediting him with the transformation they see in the national team. They say he has brought in positive energy.

Even at these early stages, Sri Lanka's performance so far has been impressive. They played with new found energy and confidence.

"Things have gone fairly well," Jayawardena said in an interaction with the Sri Lankan media yesterday morning. "But there are things that need to be improved, going forward. The main thing was role clarity for players and what needs to be done in T20 cricket."

"The biggest thing I realised, and spoke to the coaches as well, was the fear of failure," he reflected. "Playing T20 cricket at this level, you need to play without fear, otherwise it's difficult to get hold of certain situations and put pressure back on the opposition. We have spoken about this individually. The batting is something we still need to work quite a bit on and will continue to do so. 

"The bowling group has a lot of skillsets, so it's about creating situation awareness and matchups tactically to improve the skill sets we have. I think so far we have been very good in executing that and hopefully they will be able to do that even though it's going to be tougher."

Jayawardena believes that there is lot more work left to make Sri Lanka a formidable batting unit. Against Namibia and Ireland, their top order collapsed dramatically, a worrying factor moving into the Super 12s of the tournament.

"But with the batting group, we still have to work with the guys, to help them continue to bat with that freedom and start taking control of certain situations. We have discussed those situations like in the previous two games, so that they won't get surprised," Jayawardena explained.

One of the key shifts Jayawardena brought in was to change the team composition. It is said that it was he who masterminded promoting Pathum Nissanka to the top of the order and dropping down Avishka Fernando and Bhanuka Rajapaksa to No. 4 and 5 respectively.

Apart from the last game against Ireland, where he got out for a beauty of a deliver first ball, Avishka has been exceptional in that position, scoring heavily.

"With Danushka Gunathilaka and Kusal Mendis out, we needed to create bit more power in the middle, and this is why we made a few changes to the batting order. Yes, there were certain issues with Avishka as well, where at the top he was finding it difficult when certain bowling matchups come up.  

"So, we wanted to take away that element and give him a different role to play. When I spoke to him, he was very much keen to take that challenge and now we see him expressing himself well in that role," explained Jayawardena, who is known for his tactical acumen.

The bowling unit, meanwhile, has impressed the legend as they have improved in heaps and bounds in recent months. Bowlers Lahiru Kumara and Dushmantha Chameera have been exceptional at generating some serious pace touching the 150 kmph mark, while Chamika Karunaratne has been swinging the ball while bowling at a good pace.

"Obviously Lahiru  been bowling really well. Having spoken to Vaasy (Chaminda Vaas) even before the tournament, he was quite happy the way Lahiru has progressed. He has worked hard on his skill, specially the yorker. That was something on which he was working quite a while with Vaasi. He is actually very confident in executing that. Dushmantha has come a long way in the last 12 months. 

"Skills wise he is probably one of the top bowlers in the world cricket at the moment in T20 and has been able to adapt to different conditions. So having these younger guys developing their skills and having confidence give us little bit of edge in a T20 game. Even Chamika (Karunaratne) has been bowling well. We have given him couple different roles to play now, even with the new ball, where we think he can make an impact," Jayawardena said.

After Friday's game, Jayawardena will fly home to be with his daughter.

"I just counted that I have been away for 135 days in quarantine and bubbles since June and I'm on my last leg. But I totally understand and I told them I will be with the group with the technology. I hope anyone can understand that, being a father, I haven't seen my daughter for that many days. I think definitely need to get back home," he added.