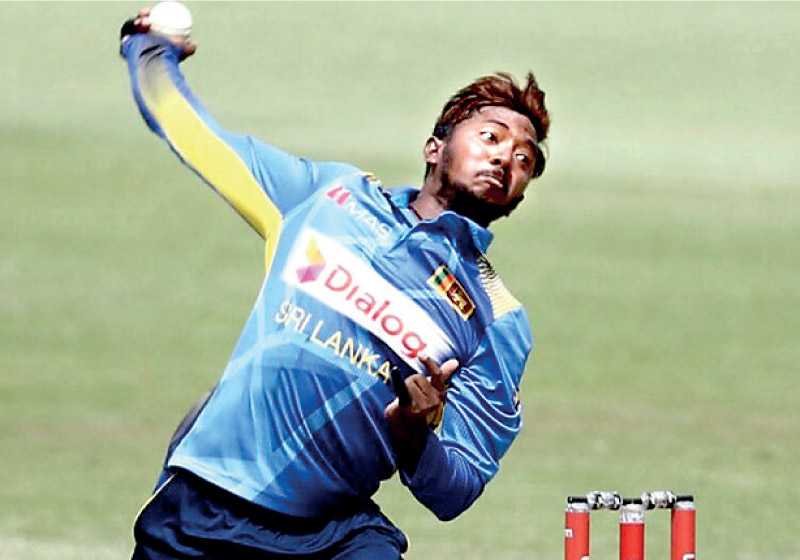 Akila Dananjaya
---
By Sa'adi Thawfeeq
---
The white ball squads picked by the new selection committee headed by former fast bowler Pramodya Wickramasinghe for the impending tours of Bangladesh and for the series in England has thrown up quite a few question marks which would be helpful if the national cricket selectors can come up with some answers.

The selection of spinner Akila Dananjaya is rather interesting. Dananjaya was played only in the T20Is in the West Indies and dropped for the ODIs, so can the chairman of selectors who was a tour selector on the West Indies tour explain on what criteria the bowler is being included here.

Dananjaya has a cloud hanging over his action where he has been sighted twice by the ICC. One more sighting is going to end his cricket career, so are the selectors seriously contemplating including him in the 2023 World Cup squad or are by getting him to play, depriving a genuine bowler from being groomed for the World Cup?

It is going to be a big risk playing Dananjaya for an ICC tournament because if he is called during the tournament the team is not eligible for a replacement. Presently because of the pandemic all countries are allowed to use their local umpires and match referees to officiate at international matches. But the moment the elite umpires and match referees come into the frame it will be a totally different ball game.

It will be helpful if the selectors can explain the criteria on which Chamika Karunaratne was selected. Do the selectors really consider him to be an all-rounder and what is his track record? In eight matches of the SLC limited-over inter-club tournament, Karunaratne took 14 wickets from eight matches at an economy rate of 5.35 and scored 179 runs with one 50 and a strike rate of 112.57. Some of the deliveries he bowls has also raised a few eyebrows as well.

Even Dasun Shanaka with the footwork he has, has no chance against strong opposition. Shanaka was picked as a batting all-rounder and he got out in the West Indies to an inexperienced left-arm spinner Akeal Hosein. When you pick a batsman you must look at the footwork. In the absence of having minimal footwork you are not a batsman. Just coming and getting runs in the local circuit against half-baked bowlers doesn't make you an international batsman.

The game has changed and you've got to pick the specialists in the field – your specialist bowlers or your specialist batsmen. Especially the bowlers you can no longer depend on half bowlers. Half-baked all-rounders are of no value. Sri Lanka must pick an all-rounder in the category of Ben Stokes. He is the type of guy when the need arises will contribute either with bat or ball. But who are the players in the current set-up you can classify as an all-rounder?

On the one side, the selectors are saying that they are grooming players for the 2023 World Cup and on the other side they are going and picking half-baked players.

In anyone else's book Shanaka won't come into contention as an ODI player. The only format he will fit into is the T20I format where you want someone to come and clout 30 in 10 balls.

Avishka Fernando is another player with hardly any footwork. If you are found wanting in your technique unfortunately you cannot be in that league especially in a place like England where the ball is going to be moving around. That is where the issues are going to crop up.

Kusal Perera has been made the captain of the ODI side to Bangladesh. But then again the question is how suitable is he going to be as a captain. Perera being a permanent member of the team is not the question but there are reservations on his ability. They say the captaincy has to be in your DNA.

Sri Lanka Test captain Dimuth Karunaratne is not a born captain. You should not only be able to perform carrying the pressure with the additional burden of captaining, but must be able to motivate the other ten players on the field. However Karunaratne was not doing any of that as reflected in his track record as captain post his initial success in South Africa. Does Kusal Perera have the personality to perform the role of captain? In all fairness we need to wait and watch how he performs during the Bangladesh series.

In time to come, it would be no surprise if Dasun Shanaka is made captain of both white ball formats – ODI and T20Is possibly with influence from outside. That way you can keep the captaincy with one club for both formats so that selections can be influenced.

When you are playing a full strength Bangladesh team (possibly with their star all-rounder Shakib Al Hasan and fast bowler Mustafizur Rehman also available after their IPL stints) on their territory it is going to be a different ball game.

We are going with a relatively raw side into unknown territory because the Bangladeshi wickets take some getting used to. On those tracks the ball keeps very low and unless you are used to them it is very difficult to score runs on them. Our players are stroke-makers and when you try to play shots on those wickets they will be sitting ducks.