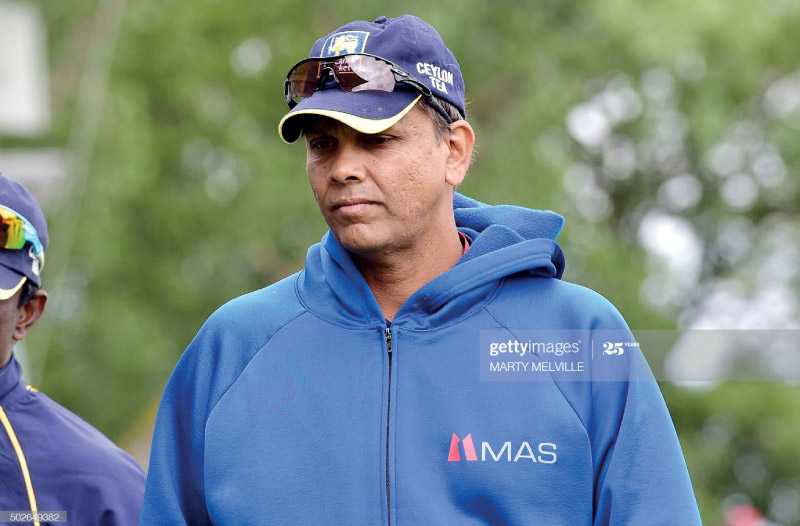 Sri Lanka Cricket Chief Cricket Operations Officer Jerome Jayaratne
---
National team training at HPC disbanded following government regulations
---
By Sa'adi Thawfeeq
---
Sri Lanka's cricketers who are currently going through hard times without any international cricket fixtures for the past seven months – and heaven knows for how much longer due to the COVID-19 pandemic – came in for some high praise for the resilience they have displayed through this difficult period, from Sri Lanka Cricket (SLC) Chief Cricket Operations Officer Jerome Jayaratne, who also heads the High Performance Centre (HPC) at Khettarama.

Jayaratne, a former interim national team head coach, who has worked closely with the current crop of players, said that until the middle of last week the national team players had been training as a group at the High Performance Centre. However the training sessions had to be disbanded after government regulations preventing groups training together were introduced following the recent outbreak of COVID-19 in the country.

"Although there are no international tours taking place we don't stop our training, it keeps going. Whenever they decide to play international cricket it is their problem. We have a 35 or 34-member national squad for the three formats and there are four foreigners who look after them, headed by Mickey Arthur," said Jayaratne.

"Then we have another 22 batters, 20 fast bowlers and about 20 spinners - it is called the Emerging players program. We have restricted the ages to be under 27-28 and there are about 10 coaches - three for batting, three for fast bowling and fielding, and so on, looking after the players. Our job is to push these players to the national squad.

"The emerging players are young, the clubs have given us the players to train them and prepare them for the matches. They were allowed to do some club training and they played in the Under-23 matches - whoever was eligible. The national program was also going on hoping that the Bangladesh tour would take place. But at the moment we have stalled everything because of the government regulations.

"The only way you can train now is to create a bubble, fully residential or put them into hotels and things like that. But that is necessary only when a tour is on, doing it now is of no use, we don't know how long it is going to go on like this."

However according to Jayaratne, the players have to adhere to the personal training time tables given to each of them by head coach Mickey Arthur and continue doing their training at home – monitored by the trainers – because they have to be in physically good shape when the cricket starts.

Jayaratne also elaborated on how the players are coping with the mental aspect of training and maintain fitness levels away from the rest of the team.

"You can only talk to them and make sure that they are ready and need to perform. There is nothing much you can do in this situation. But I must tell you that our players are generally okay, they are not as bad as what you think they are. Only make sure that they are ready and as soon as you get the green light, they can go and perform," said Jayaratne.

"To be frank our players are quite resilient compared to other countries. Our guys are used to drinking water from the taps, walking under the hot weather conditions and getting wet in the rains – they are more resilient in that way. We just want to make sure they maintain their weight and not be too excessive,'' opined Jayaratne.

"At the moment the national players cannot make use of the High Performance Centre because of the circumstances they cannot train in groups. They trained until the middle of last week, and to be frank we were also planning to play some practice matches," he said.