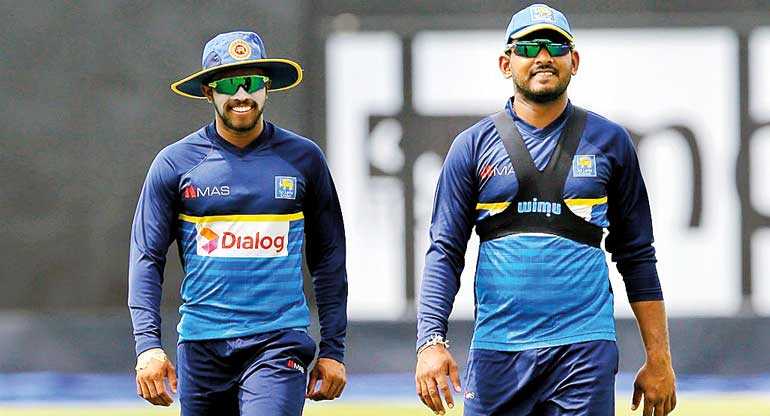 Kusal Mendis and Shehan Jayasuriya at a training session
ESPNcricinfo: Sri Lanka's Kusal Mendis and Shehan Jayasuriya are unlikely to be fit for the third T20I against New Zealand, to be played on Friday - both of them picked up knee injuries after an on-field collision in the final over of the second T20I on Tuesday.

Jayasuriya was running from long on, and Mendis from midwicket, in order to intercept an aerial Mitchell Santner hit that, if caught, could have turned the game in Sri Lanka's favour. As it transpired, Jayasuriya did catch the ball, but as he was still running, was tripped up by the onrushing Mendis, and sent crashing into the boundary. That turned what could have been a wicket into a six, Jayasuriya unable to jettison the ball before he made contact with the rope. Mendis also fell to the ground outside the boundary, and both men were clearly in significant pain. They took several minutes before being helped up.

"Mendis has suffered an injury on his knee on the right leg, while Jayasuriya has sustained an injury above the knee on his right leg," an SLC statement said. "Mendis has undergone an MRI scan today and the report is due later in the day."

No replacements will be named, according to chief selector and team manager Ashantha de Mel, even though Sri Lanka only have one extra batsman - Danushka Gunathilaka - in the squad.

Sri Lanka have already lost the three-match series 2-0.