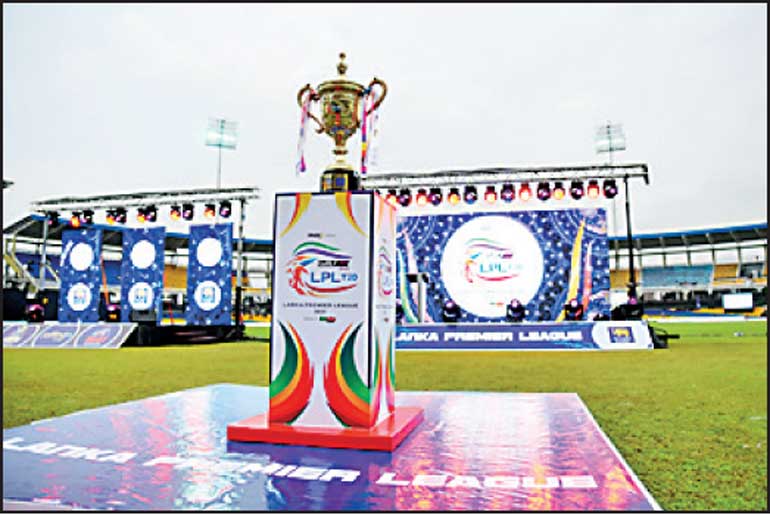 The LPL trophy for which the two teams are battling for
---
Prize money worth Rs. 30 million at stake
LPL 2 final today at Hambantota
By Sa'adi Thawfeeq

Today will see the repeat of the 2020 Lanka Premier League final between reigning champs Jaffna Kings and Galle Gladiators at the Mahinda Rajapaksa International Cricket Stadium in Hambantota, when the two teams clash for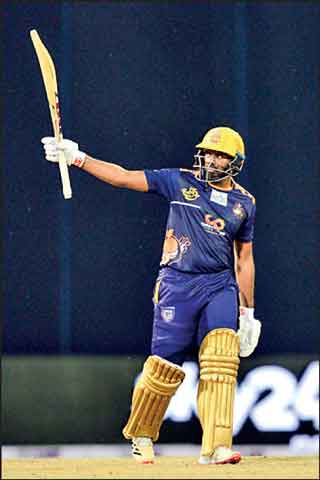 Galle Gladiators Captain Bhanuka Rajapaksa


Jaffna Kings Captain

Thisara Perera


the LPL trophy for the second successive time. But will the result be different?

Unlike last year, when they were beaten by 53 runs in the final, Galle are well prepared to take on Jaffna in the final having had the upper hand in all three previous meetings they had in the ongoing second edition, winning three out of three.

The confidence Galle gained out of those victories against one of the best teams in the competition is bound to carry into today's final, where they will be hoping to make it four-in-a-row and get their hands on the silverware for the first time.

There is prize money worth Rs. 30 million at stake, with the winners collecting Rs. 20 million and the runner-up Rs. 10 million. There is also a Player of the Series prize of Rs. 2 million.

"It's like playing a series against a normal national side, we played three games and won three out of three. The boys are pretty much confident. As we have beaten them thrice it's a matter of another game," said Galle Gladiators skipper Bhanuka Rajapaksa looking ahead at today's match.

"We can't underestimate them because we know how good they are, and they are the reigning champions. The preparations have been good, and we are looking forward to playing another match. We started the tournament with a good win, and we had a couple of lapses in the middle but in the latter part of the league stages we have got our momentum and it's the right time to win against pretty good sides. It's a big final.

"The one good thing with us is that we have met Jaffna three times and won all of them and our players' confidence levels are high because of that. This is the final and we expect to play 100%. We know that Jaffna is one of the best teams in the competition. Because we batted first, we were able to put up a good total and in the third game, even though we didn't get a big score, it was down to the effort put in by our bowlers that we were able to win. No big secret, we've played good cricket that is the reason for our success.

"Our coach Umar Gul, who has played cricket for about 20 years, knows the game well and reads it well. The advice he gives us is very practical. As a player you are given the freedom to play the way you like. He is not a coach who looks for faults of players, from which the confidence levels of the players have grown," Rajapaksa added.

For today's contest Galle will be without their young teenage left-arm spinner from Afghanistan Noor Ahmed, who had to leave to represent his country in the upcoming Under-19 Asia Cup in the UAE.

"It would have been a pretty good feeling to have Noor Ahmed in my armoury, but unfortunately and, fortunately for him, he has to go and represent his country. That is something we always have to take into consideration. Losing Noor, we still have a couple of backups but it is not easy to fill his position. It's a loss, but we are cooperating with it."

Thilina Kandamby, the Jaffna Kings coach, said that they had analysed where they went wrong in the past three matches against Galle and were confident of putting them right in the final. Galle won each time they batted first, and Jaffna were left to chase a total.

"I don't think the toss will play a crucial role. In a final we might consider batting first because it's a pressure game. We have an experienced batting unit so even if we are chasing, I don't think it will be a big issue. We have to execute our plans at the right time," said Kandamby.

"The first two games at the Premadasa Stadium, the conditions were different. We didn't play our best combination in the first couple of games but in the other game we were outplayed by Galle. We have analysed a few areas; we haven't spoken to the players individually because tonight (Wednesday) only we are having our team meeting. I am sure if we can execute our plans, we can come out better."

Thisara Perera, the Jaffna Kings skipper, said that they were planning to play the final as just another game.

"We won our last game, and everyone is in a good frame of mind. We are not putting a lot of pressure on ourselves. If we perform our roles, we can emerge victorious," said Perera. "Our shortcomings against Galle were not pushing the singles and twos whilst hitting the boundaries. We saw that happening in our last game yesterday (against Dambulla Giants). What we discussed we executed in the middle, that's why we won.

"We know that Galle is a good team, they have very good bowlers in their side, and we have plans for them. If you take the teams, we have the most experienced unit. In a pressure game like this, that will be an advantage to us. If you can score 170-175 in a final any team has a chance of winning."

Jaffna are keeping their fingers crossed on the fitness of opening bat and wicketkeeper Rahmanullah Gurbaz, who returned to form with back-to-back fifties but was struck down by a hamstring injury in the last match while batting that prevented him from keeping wickets.