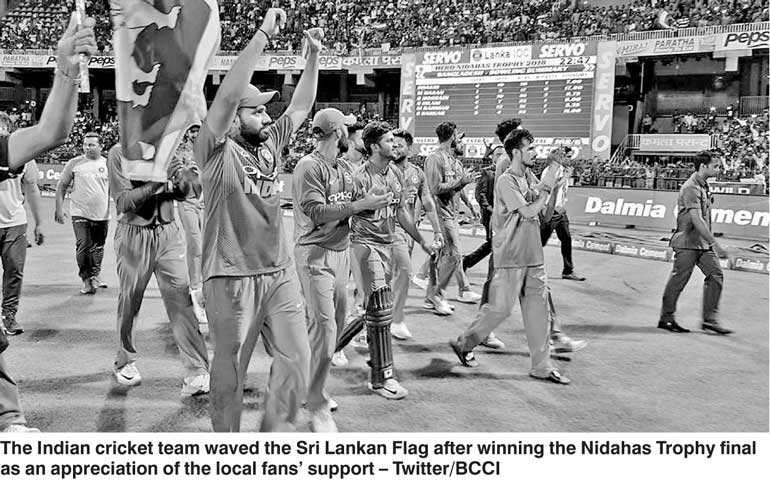 The Indian cricket team's gesture after winning the Nidahas Trophy final in Colombo on Sunday was appreciated by Sri Lankan fans

The controversial finish to the virtual semi-final of the recently-concluded Nidahas Trophy T20 tri-series in which hosts Sri Lanka were pipped by Bangladesh left bitter memories for the home team's fans, who decided to support the Rohit Sharma-led Indian cricket team in the final.

Bangladesh had to face a hostile crowd at the R Premadasa Stadium in Colombo during the final on Sunday, as a vast number of Sri Lankan cricket fans turned up to support India, in a way punishing the Shakib al Hasan-led team for their behaviour last Friday.

Several Bangladeshi players were involved in heated discussions with their Sri Lankan counterparts during the virtual semi-final to decide which team would face India in the final.

Apart from on-field spat, Bangladeshi captain Shakib even threatened to take his team off the field in order to protest a no-ball call which his camp felt was not correct.

Bangladesh substitute Nurul Hasan, who too was involved in heated discussions with Sri Lankan fielders, alongside Shakib was fined 25% of their match fees for breaching ICC Code of Conduct.

But after India sailed past Bangladesh's target riding on Dinesh Karthik's brilliance, the entire stadium celebrated India's win. During the presentation ceremony, Shakib was even booed by the local fans.

And when the Indian cricket team took its victory lap to acknowledge the special crowd, stand-in India captain Rohit even carried the Sri Lankan flag for a while.

"(It was a) brilliant game, brilliant for the crowd who have come out in numbers. The support we got here from this crowd was brilliant, it would be a bit different if we were playing Sri Lanka but I would like to thank them for their show tonight," said Rohit after India's win on Sunday.