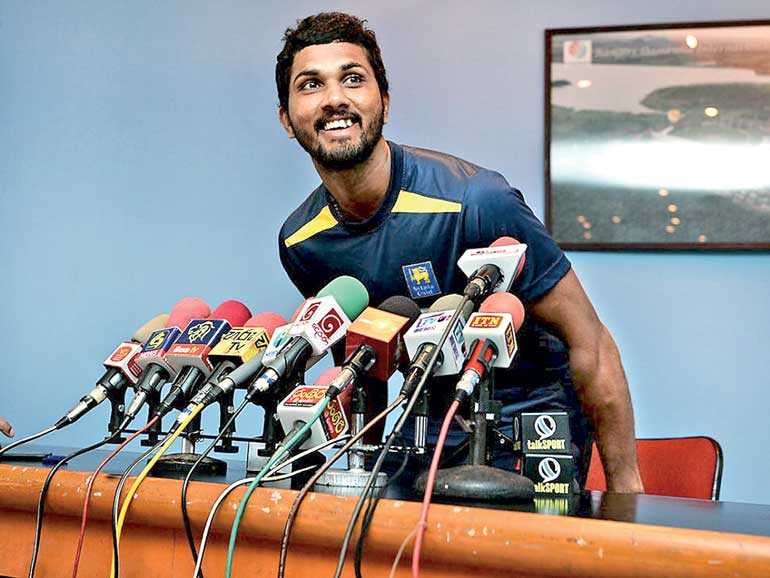 "Sometimes it feels like everyone in the world is watching how the Sri Lanka team is doing" – Getty Images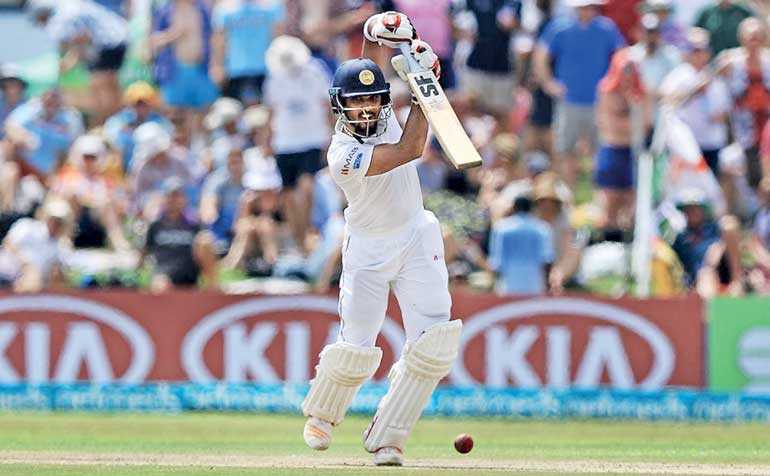 "If we can get to a stage where we are consistently competing, opportunities to push for victory will come as well" – AFP/Getty Images
---
Having taken over the Sri Lanka Test captaincy at a difficult time in the team's development, Dinesh Chandimal speaks to ESPNCricinfo about his time at the helm and outlines hopes for the future
Q: You took over the captaincy when the team was in a rough state. What were those first few months like?

It was a big challenge. We had Zimbabwe first up, and we had to get through that with a win. After that there were some tough tours. What I've talked about is how to be a team player, and what we individually had to do to benefit the team. You can't do those things by yourself. You need support. And I got that support from everyone.


Q: Almost 18 months in, is there anything that has surprised you about the job?

I didn't notice anything especially different. I've captained teams since the under-17 level, in my school, club, development and Sri Lanka A teams. So that experience really helps. I was T20 captain for a while too. So I learned a lot through those experiences.


Q: What's different about the captaincy at the top level?

On the pressure side of things, it's a lot different. Sometimes it feels like everyone in the world is watching how the Sri Lanka team is doing.


Q: Do you think you have grown as a captain since getting the job?

I think there has been a lot of growth. I got the captaincy at a very challenging time. We've been able to progress a little in Tests since then. When I took the captaincy itself, I said, I can't turn things around all of a sudden. Give me a little time. My ultimate goal is to take us to No. 1. We've had our opportunities to make progress in that direction, but because we didn't have the ability at the time, we've probably had a few setbacks. But we were No. 8 when I took the captaincy, and now we've moved to No. 6. I do think that's a good achievement, given the challenges we have had recently.


Q: What moments have you really enjoyed in your captaincy?

Winning that second match against Pakistan in Dubai – when that last catch was taken, there was a spilling over of joy. That's the best feeling I've had in my captaincy.


Q: You must have regrets as well?

There are, and they would be those Tests in India – in Kolkata and Delhi. I really feel as if we could have won one of those games. But those things are in the past. If we had won one of those games, it would have been a big achievement. We haven't won a Test in India yet. We've also not won in Australia. I have that aim in my heart, to go to these two countries and win a match.


Q: You've missed six Tests in all since taking over the captaincy, for various reasons. How tough has it been to watch the team play without you?

I think I've missed at least one match in all the last three series. I had an injury in one series, and a suspension in another. I couldn't be with the team, and that does have an impact, because everyone's captaincy style is different. You can't be with the team and go through the same experiences as them and not have that unity. The best thing I can do is to make sure I am clear of injury by maintaining my fitness. I really made that a focus over the last few weeks.


Q: Do you feel you've not been able to roll out your vision with this team because you've missed so many games?

Well, Suranga's been the stand-in captain, and generally we are on the same page on what the team should be doing, so that's made it a lot easier. When I can't play, the two of us have talked and he goes in that direction. The main thing is my not having been able to be with the team.


Q: How disappointing was the 3-0 against England, just as the team seemed to be building up some Test form?

It was very tough. I wasn't able to play the second and third Test, and as I watched those games at home, I really thought we had chances to win both of those matches. With some of the dismissals we didn't have a lot of luck. When we seemed to be doing well, something would happen that turned the game their way


Q: What are your realistic expectations from the three big southern-hemisphere tours in front of you now?

They are three big challenges, given the conditions we will face. What we're thinking about with the team that we have is: "How do we compete?" If we can get to a stage where we are consistently competing, those opportunities to push for victory will come as well. That's our plan, and if we can execute that, there will be chances to win matches.


Q: You've got a few promising young fast bowlers in your team now, which is not something a lot of Sri Lanka captains have been able to say. What has been your approach to managing them?

Just to give them the benefit of my experience, and the confidence to do well. The good thing about the young bowlers is that they ask a lot of questions. That's a big plus point. "How do we react to the kinds of conditions we will face here?" has been something they've asked a lot. If they can do well in these three series, they can take some steps up on their personal journeys.


Q: There can be a high turnover rate in the Sri Lanka captaincy, sometimes by the captain's own choice. Are you in it for the long haul?

I don't have a timeframe for it. That's a selection-committee decision. All I'm doing is try to give my best to it while I'm here, and also to groom a new generation of young leaders within the team.


Q: Some captains have faced pressures from administration in the job. How have it been for you?

Pressure is something we have to deal with, not just as a captain but as a player as well. But one thing I will say is that once a tour starts, I really restrict the time I spend on my phone. I control how much time I spend reading news or going on social media. Until the tour ends I try to block out as much of that as possible. There are times when there are unavoidable complications. But you have to learn to deal with that.


Q: Since you've been in New Zealand, the new chief selector Ashantha de Mel has criticised your captaincy a little bit. What was your response to that?

Has he said something like that? I honestly don't know. If he's said something like that, he should tell me. The chairman of selectors hasn't said anything to me.


Q: What's your relationship with coach Chandika Hathurusingha like?

The captain and coach should pull in the same direction. We have to make those short- and long-term plans together, and decide together what the team needs. We all know how good a coach Hathurusingha is. What we can do is get the best out of him. There are ups and downs in personal life and in your career as well. Just because you're down, you don't have to stay that way. We're hoping we can turn it around in New Zealand.


Q: Who are the key players for you over the next couple of weeks?

Everyone has a big role to play, but we know how good Angelo Mathews, Dimuth Karunaratne and Kusal Mendis are. They are guys who can change a match at any time. There are others who have put in a lot of effort over the last few weeks in preparation as well, and anyone could play an important role.