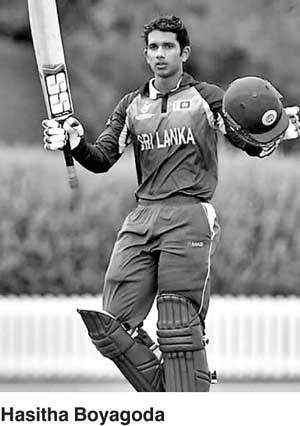 By Shamzeer Jaleel

Trinity College Kandy upper school prize giving was held at the College Hall recently. The main award, Ryde Gold Medal winner was none other than the national cricketer and present Trinity skipper, Hasitha Boyagoda.

Hasitha Boyagoda made a brisk century in the ICC (International Cricket Council) Youth World Cup held last year in New Zealand. He won his Lion last year. Though he could not participate in most of the College Under 19 encounter as he was on national duty with the Sri Lankan Under 19 outfit at the Asia Cup and ICC Youth World Cup Trinity cricket did well this season. They won their annual limited over game against Katugastota Antonians and did well at the two day game against the same opponents. They are in the finals in the Singer Cup two day encounter and in the quarter final in the Singer Cup limited over encounters.

The rest of the sports awards are, the most Versatile Sportsman awarded to P. Hariprasanna, the games all round excellence to Rishen Madena. Then the most outstanding team performance award goes to the Weight Lifting – Winning Team for getting the All Island under-20 title. The Team of the Year award goes to the Under-16 rugby team for winning the All Island championship.