The Hong Kong Men's Under-19 outfit thrashed Sri Lanka 40-7 at the Hong Kong Football Club grounds during the weekend.
This was the second heavy defeat the Sri Lankan youth suffered at the hands of Hong Kong after being defeated 38-7 at home during the first leg a week ago.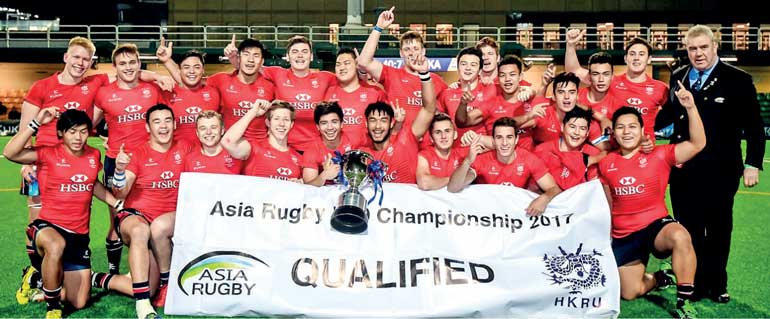 The victorious Hong Kong Under-19 team
The sweep saw Hong Kong claim its fifth straight Under-19 title and book a fifth consecutive appearance at the World Rugby Junior Trophy (JWRT) 2018 from the Asian Zone. Hong Kong were not at their best during the opening half but zoned in during the latter half to exploit the gaping holes in the hapless Sri Lankan defence.
Hong Kong opened the scoring early in the sixth minute through winger Marcus Ramage, collecting his fourth try in the series. Fly half Paul Altier's conversion gave them an early 7-0 lead. Co-captain Max Denmark, who had an outstanding offensive game, scored Hong Kong's second try with Altier converting to give Hong Kong a 14-0 lead.
Sri Lanka scored their sole try at the end of the half as fullback Chamod Fernando broke through Hong Kong's defence. His schoolmate Randy Silva added the extras points to have the score at 14-7 at halftime.
Hong Kong then proceeded to dismantle the Lankans, unleashing a barrage of 26 unanswered points. Altier scored the third Hong Kong try and converted it. Jay Cooke then continued his good work when he scored his first try of the match to launch Hong Kong into a 33-7 lead.
Hong Kong then forced the floodgates open and drowned out their opponents in the final 10 minutes with Alex Nisbet collecting his second try in two games with Altier converting it to seal the one-sided victory.
Sri Lanka tried their best to breach Hong Kong's defensive line for the second time in the dying stages of the game but they continuously failed as the home team built up a solid defensive wall.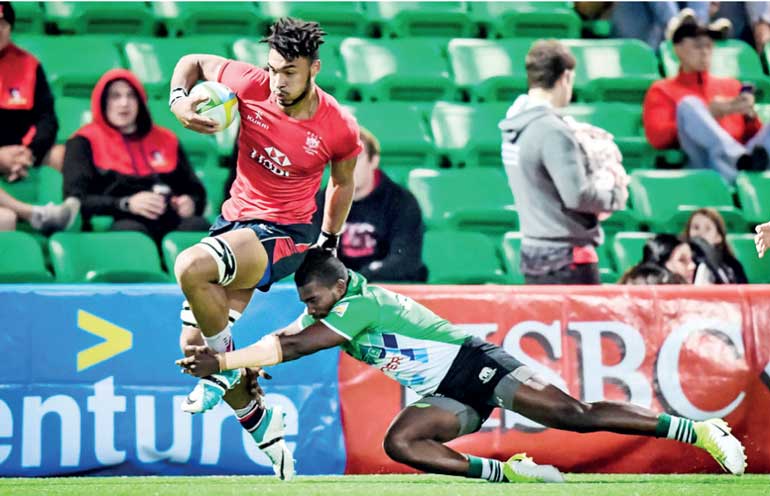 Hong Kong captain Max Denmark barrels his way toward the try line
In the end the one-month preparation of the Sri Lankan youth proved to be extremely insufficient. If the team is to reach the next level and avoid further international embarrassment then they require more preparation.
A minimum of three months' training and some matches against countries from Europe and Africa should be arranged for the youngsters by Sri Lanka Rugby (SLR) both at home and abroad. Hong Kong, Sri Lanka and Chinese Taipei were to battle it out this year but Taipei pulled out of the tournament which will see them demoted to Division I in 2018. Sri Lanka, Hong Kong and the Division I winners will regroup for the 2018 ARC. (SJ)