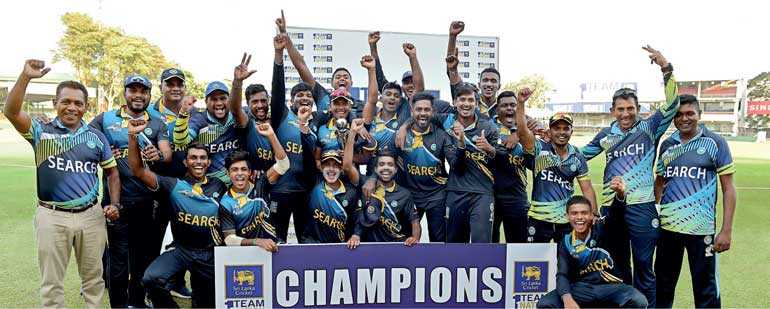 The Lankan CC team celebrates their win in the final
---
By Sa'adi Thawfeeq
---
Lankan CC continued their giant-killing spree in the SLC Major Youth Under-23 cricket knockout round when they beat fancied SSC to the title winning the final by 59 runs at the SSC grounds yesterday.

It was one of the few major trophies Lankan CC has won in its 38-year history. They had earlier won the Tier B titles twice to earn promotion to Tier A.

Before yesterday's upset victory Lankan CC had dethroned defending champions Colts by three wickets in the semi-finals played on Friday. So it came as no major surprise when they dished out the same treatment to SSC.

Like they have done throughout the tournament there was no one individual who shone for the club but it was absolute team work that won them the title.

After being invited to bat first, Lankan CC managed a decent total of 223, and SSC with a much stronger batting line-up surprisingly collapsed for 164 in 44.3 overs to hand a win to a less fancied team.

A feature of the Lankan CC's batting was the 76-run stand between Kevin Perera (40) and Kasun Abeyratne (51) for the fourth wicket. At 173-4 in the 39th over Lankan CC looked strongly placed to set SSC with a target of well in excess of 250 to chase, but SSC fought back through their spinners to capture the remaining six wickets for 50 runs as Lankan CC failed to last their quota of 50 overs being dismissed with four balls still remaining.

The collapse was caused by SSC skipper Sammu Ashan who turned his arm over to capture three wickets for 31 with his off breaks assisted by the slow left-arm deliveries of Dilum Thilakaratna who also ended up taking three wickets at a cost of 35 runs.

SSC's run chase never really kicked off and they kept on losing wickets regularly. In fact they lost their first six wickets for 102. Skipper Ashan aided by Chamindu Wickramasinghe set about a recovery of some sorts by indulging in a 55-run stand for the seventh wicket raising hopes of a late SSC revival.

But once the stand was broken by left-arm spinner Dunith Wellalage when he had Wickramasinghe caught for 15, the rest of the SSC innings simply folded up. Ashan who resisted 65 balls for 50 was ninth out at 160 and it took only six balls for Lankan CC to claim the final SSC wicket and start their celebrations. Wellalage took three wickets but three others took two apiece to complete an all-round effort.

Nuwan Shiroman, a former first-class cricketer who is in his second year as coach of Lankan CC put down the win to "team work and fielding".

"Fielding played a major role in our win. The fielding was the best in our team, we hardly dropped a catch in the tournament and that came through team work. Most of the players are not experienced but against experienced players when you put the pressure they do the mistakes. When the mistakes are made we should be ready to grab it.

"The old adage 'catches win matches' is true. Fielding is not only the main area it is also bowling and batting as well but the unity comes from the fielding," said Shiroman. "We had a very cool captain Damitha Silva. He kept the team together really well. All the credit should be given to the players and the captain."

SSC coach Thilina Kandamby, a former Sri Lanka cricketer said: "The mindset of the boys especially was very negative. We were scared to go for the shots and we were not rotating the strike. That's what happened. They had a good spin attack as well but still I think our boys were good enough to chase down 223. At the end of the day it was a final and we panicked."

"We were unbeaten up to the final beating some of the good teams like CCC and Tamil Union. If we were playing against a side like NCC it would have been a different mindset, but against Lankan CC in the final it was another different mindset. There was some pressure on us because there is no fear when you play against a side like NCC, Tamil Union or some other top club and lose," he said.

Lankan CC collected a cheque for Rs. 500,000 as the winners with SSC picking up Rs. 300,000 as runner-up. Kasun Abeyratne who top scored for Lankan CC with 51 won the Player of the Final award of Rs. 50,000.
Scores
Lankan CC – 223 (49.2) (Lahiru Dilshan 22, Kevin Perera 40, Kasun Abeyratne 51, Damitha Silva 30, Umesh Lakshan 21, Kalana Perera 2/50, Dilum Thilakaratna 3/35, Sammu Ashan 3/31)

SSC – 164 (44.3) (Nipun Dhananjaya 38, Krishan Sanjula 31, Sammu Ashan 50, Yasiru Rodrigo 2/23, Sawan Kankanange 2/9, Dunith Wellalage 3/29, Sadun Sathsara 2/29)

Kasun Abeyratne of Lankan CC receiving the Player of the Final award from Chintaka Edirimanne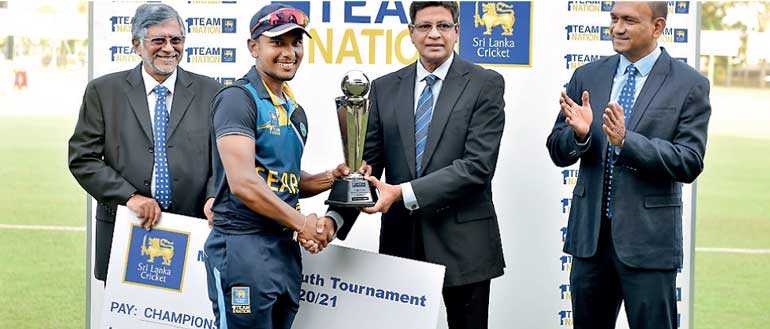 Lankan CC captain Damitha Silva receiving the winners cheque of Rs. 500,000 from Sri Lanka Cricket Secretary Mohan de Silva in the presence of Tournament Committee Chairman Bandula Dissanayake and Head of Domestic Cricket Chintaka Edirimanne
---