Adelaide (Reuters): An Ashes series shorn of Ben Stokes would be a great shame for cricket but England are heading for defeat with or without the troubled all-rounder, former Australia batsman Greg Blewett has said.

Test vice-captain Stokes and opener Alex Hales have been suspended from international cricket indefinitely, pending an investigation into an altercation outside a nightclub in Bristol last week.

Stokes was initially named in the 16-man squad for the Ashes tour starting in November but the England and Wales Cricket Board (ECB) rowed back on the decision a day later

Blewett, who struck a century on his test debut during the 1994-95 Ashes series, cast doubt on Stokes's chances of playing a full part in the series.

"I'm sure they will (sanction him). They are having their internal investigation. That will play out," Blewett, a 46-test righthanded batsman, told Reuters in an interview in Adelaide on Tuesday.

"It would be a shame if he's not out here. I think everyone wants to play against the strongest possible team.

"It would be a shame if he doesn't come out because he's a bit of a drawcard, he's a world class all-rounder and will leave a massive hole in their team.

"But even if he was (to come), I think Australia are going to be too good at home anyway. With or without Ben Stokes I don't see a different result but I think England would love to have him in their side."

The Sun newspaper published footage of what it said was a brawl between the player and two other people, one clutching a bottle. The authenticity of the images could not be verified by Reuters.

Media reports said Stokes, who suffered a minor fracture of a finger on his right hand, apologised to the ECB for his arrest on suspicion of causing actual bodily harm and described his state of mind as 'fragile and devastated'.

Blewett, who was Australia's fielding coach until stepping down in August, has taken on assistant roles with Sheffield Shield side South Australia and the Adelaide Strikers in the 'Big Bash' domestic Twenty20 competition.

Also coach of South Australia's men's under-19 side, Blewett said he would take a dim view of any player out drinking in the early hours of the morning and days before a match.

"I wouldn't be over the moon, put it that way, because I did see the footage and it's not great," Blewett said, referring to the video posted by The Sun.

"I'm sure he's got his side to the story which we haven't necessarily heard yet.

"Yeah, you would be disappointed, I think they were only a couple of days away from the next one-day international so I think any coach would be disappointed with that sort of behaviour."

The Stokes incident has revived the debate as to whether curfews should be enforced during series, but Blewett said he was against such measures.

"Generally, you'd say players these days are a hell of a lot more professional than what we used to be," said the 45-year-old. "These things don't pop up all that often these days, but when they do, obviously you need to address it."

The potential absence of Stokes would heap further pressure on England's bowlers and a batting order featuring players like opener James Vince and Dawid Malan who are yet to establish themselves.

Blewett said Australia and the team's formidable pace attack led by Mitchell Starc would provide the toughest of initiations.

"Two or three of those guys in the squad haven't had a great start to their careers," he said. "It's not going to get any easier when they come out here. And it's looking like Australia are going to be full strength with their bowling attack so (they) are going to be up against it."
---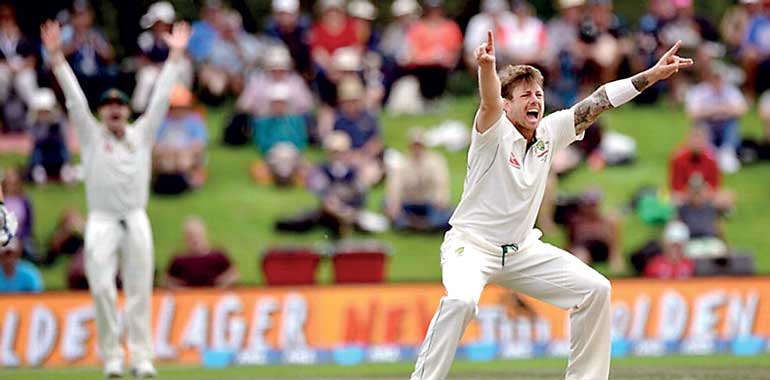 Australia quick Pattinson ruled out of Ashes
Reuters: Australia fast bowler James Pattinson will take an indefinite break from cricket and has been ruled out of the Ashes series against England after reaggravating his lower back stress fracture, Cricket Australia said on Wednesday.

The 27-year-old will continue his rehabilitation after pulling out of Australia's recent tour of Bangladesh with inflammation in his back.

"We made the decision to withdraw him from the tour of Bangladesh and monitor his pain. He returned to bowling after a period of rest and unfortunately he is still experiencing pain with bowling," CA science and sports medicine manager Alex Kountouris said in a statement.

"During this time we have been monitoring him, including regular scans and recent imaging has confirmed that James has begun to reaggravate his previous lower back stress fracture.

"As such, he has discontinued bowling as part of his recovery which unfortunately means that he will be unavailable for the beginning of the Sheffield Shield and subsequently Ashes campaign.

"Whilst this is very disappointing that James has reaggravated this old injury, we are confident that he can recover from this and return to playing."

Pattinson's unavailability ruins a potential fast-bowling quartet against England, made up of the Victorian right-arm quick and the New South Wales trio of Mitchell Starc, Josh Hazlewood and Pat Cummins.

"I'm especially disappointed to miss out on the possibility to play in a home Ashes series," said Pattinson.

"Over the next few weeks I will discuss all available options available to me with medical staff, to work out the best plan to prevent this from happening again."

Australia's five-test Ashes series against holders England starts in Brisbane on Nov. 23.