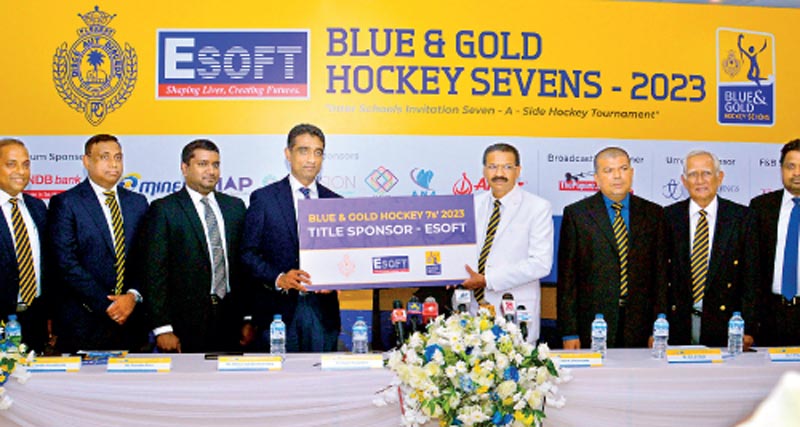 ESOFT Metro Campus Chairman and Managing Director Dr. Dayan Rajapakse (left) hands over the replica of the Title Sponsorship cheque to Royal College Principal R.M.M. Ratnayaka
---
The 18th edition of the Blue & Gold Hockey 7s, organised by Royal College in collaboration with Hockey College Hockey Club (RCHC) will be held on 12 and 13 August at the Royal College grounds.

ESOFT Metro Campus, Sri Lanka's largest higher educational network, is the main sponsor of this year's tournament.

Sri Lanka's largest hockey tournament this year has featured a record 66 teams and 146 matches are scheduled to be played in three courts at Royal College Hockey ground from 12 August from 8 a.m. onwards.

The tournament provides unique opportunity and exposure of displaying skills and talents for the young and energetic players coming from diverse backgrounds in an arena that has not only caught the limelight in the hockey fraternity of the nation but is also an eye-catching attraction on the schools' sports calendar in Sri Lanka.

The ESOFT Blue & Gold Hockey Sevens will see Cup, Plate, and Bowl champions in both boys' and girls' categories.

"As a renowned non-state tertiary education institution, ESOFT is committed to empowering and uplifting secondary education standards. We take immense pride in being the Title sponsor for the esteemed Blue & Gold Hockey Sevens 2023, the most prestigious Hockey Tournament in the school calendar," Title Sponsor ESOFT Metro Campus Chairman and Managing Director Dr. Dayan Rajapakse Dr. Dayan Rajapakse said.

"At ESOFT, we believe in the power of sports to make a difference in character, discipline, and unity, as quoted by Nelson Mandela. Through this sponsorship, we aim to inspire young athletes, fostering friendship, teamwork, and leadership skills beyond the hockey field. Join us in celebrating this event as we continue to promote excellence in education and sports, driving positive change for a better future."

NDB Bank has joined as Platinum Sponsor, while Minel Lanka, CIAP, SECVISION Ltd., R&R Fine Gems, ANA Marine Agencies Ltd, and Anchor have come forward as Gold Sponsors, Broadcasting Partner is ThePapare and Umpire Sponsor is LTL Holdings, while Food & Beverage Sponsor is Thambapanni.

"The generosity they have shown for this is a testimony for the sponsors' commitment towards the game of hockey and sportsmanship despite the economic crisis, financial constraints, and other hardships. With their support, we are confident that this edition will set new standards of excellence in terms of competition and camaraderie," said RCHC Secretary Damitha Silva.

The 18th edition of the Blue & Gold Hockey Sevens promises to be a celebration of teamwork, passion, and competitive spirit. The tournament will feature teams from under-20 from schools across the country including underprivileged teams without any discrimination with an aim to provide an opportunity that could take them to a higher level.