SLC in talks with member countries for youth tours
---
By Sa'adi Thawfeeq
---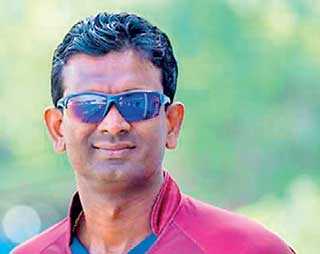 Sri Lanka Under-19 interim cricket coach Dhammika Sudarshana
---
Despite there being speculations that a foreign coach will be appointed to handle our Under-19 cricketers, Sri Lanka Cricket (SLC) has put that idea on hold and gone for a local by appointing Dhammika Sudarshana on an interim basis as the Under-19 cricket coach.
Sudarshana has been a highly successful first 11 coach of Richmond College, Galle that has produced several players to the national cricket team at all levels and SLC are keen to give him a decent run and see whether he can generate the same success he has shown with the school.
"We have appointed Sudarshana on an interim basis and I don't think we will replace him for the moment. We want to give him the opportunity and see how he performs," said Sri Lanka Cricket CEO Ashley de Silva.

Sudarshana fills the void created by Hashan Tillakaratne as Under-19 coach. Tillakaratne's two-year contract with SLC was not extended after Sri Lanka's dismal performance in the ICC Under-19 World Cup in January 2020 where they finished in 10th position.

Currently there is no Under-19 cricket pool at training due to the COVID-19 pandemic that has postponed all Under-19 cricket tours scheduled by SLC. In fact there has been no Under-19 cricket played since the Under-19 World Cup ended in February 2020 in South Africa.

"The Under-19 schools season is due to start shortly and we are looking at having some tours at least two this year. We are in the process of having talks with member countries. There is a tour to go to India and we are working on it but everything depends on the current situation. The schools will start first in March so it has to be done after March. We are hoping to have two tours one in August and one in September," said De Silva.

"The Under-19 hasn't started training as yet but we are in the process of starting with the provincials. After the school season the provincial tournament will be held and the teams for the provincial tournament will be selected on the performance of the school season. We might have to select about 30-35 players and have about 5-6 teams. The under 19 pool will be formed after that," he said.