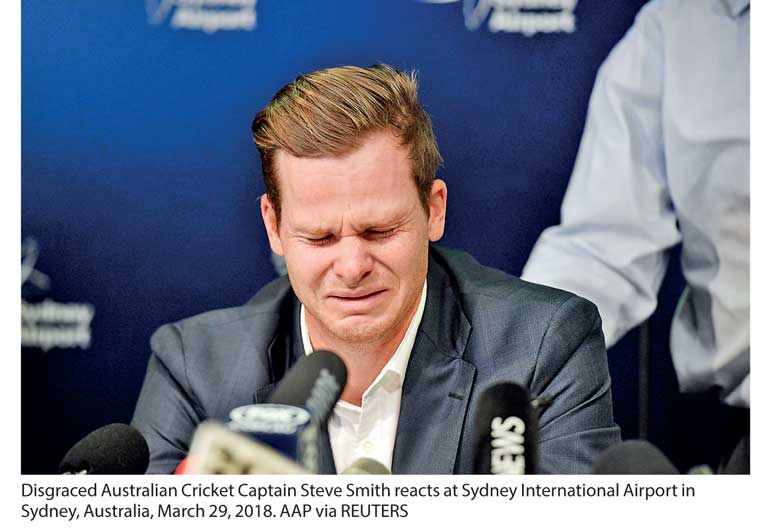 SYDNEY (Reuters): "Devastated" former Australia captain Steve Smith broke down in tears repeatedly on Thursday as he apologised for his part in the ball-tampering scandal which has rocked his nation.

The 28-year-old arrived from South Africa after being stripped of the captaincy and handed a 12-month ban for his part in the incident during the third test against South Africa in Cape Town last weekend.

"To all of my team mates, to fans of cricket all over the world and to Australians who are angry and disappointed, I'm sorry," Smith told reporters in a prepared statement at Sydney Airport after spending some time with his family.

"Tonight I want to make clear that as captain of the Australian cricket team, I take full responsibility. I made a serious error of judgement and I now understand the consequences.

"It was a failure of leadership, of my leadership, I'll do anything I can to make up for my mistake and the damage it has caused," he added, breaking down for the first time.

"If any good can come of this, as an example to others, I can be a force for change. I know I'll regret this for the rest of my life, I'm absolutely gutted.

"I hope in time I can earn back respect and forgiveness. I've been so privileged and honoured to represent my country, and captain the Australian cricket team.

"Cricket is the greatest game in the world. It's been my life and I hope it can be again.

"I'm sorry and I'm absolutely devastated."

Smith, who had been captain since 2015, is rated by many as the best Australian batsman since the great Donald Bradman and had the world at his feet until his misjudgement in Cape Town last week.

The Cricket Australia investigation said he had only been aware of the scheme with vice captain David Warner and junior batsman Cameron Bancroft guilty of conspiring to cheat by buffing one side of the ball with sandpaper in the third test against South Africa.

Smith said, to his knowledge, it was the first time it had happened and he was not about to offload the blame onto Warner. "I don't blame anyone," he said. "I'm the captain of the Australian cricket team, it happened on my watch and I take responsibility for what happened in Cape Town last Saturday." The final question he was able to field before he broke down for the last time and was ushered out of the room with his father Peter was about what he would tell the cricket-loving children of a reporter.

"Anytime you are thinking of making a questionable decision, think about who you are affecting, you're affecting your parents," he said.

"To see the way my old man's been," he sobbed. "It hurts... it's... I just want to say I'm sorry for the pain I've brought to Australia and the fans, I'm devastated and I'm truly sorry."

Smith has already suffered a heavy financial penalty for his part in the scandal, losing $1.85 million through a subsequent ban from this year's Indian Premier League and personal sponsors Commonwealth Bank and cereal maker Sanitarium dropping him.
Lehmann resigns as disgraced trio return to Australia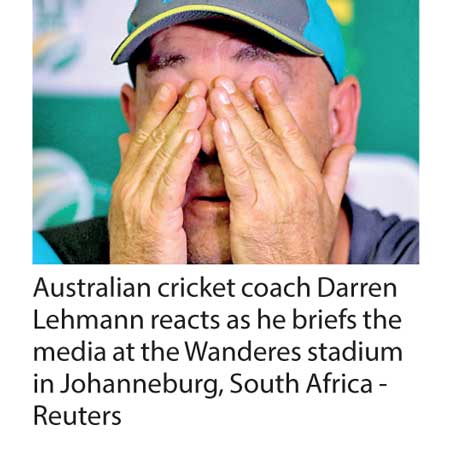 Johannesburg/Sydney (Reuters): Australia coach Darren Lehmann said on Thursday he would step down after this week's test match against South Africa, as he took ultimate responsibility for the culture of a team embroiled in a ball-tampering scandal that has rocked the sport.

Lehmann, who had previously told reporters he would not stand aside, said that his decision was due in part to the abuse his family received after three Australia players conspired to scuff up the ball with sandpaper during the third test against South Africa.

Cricket Australia had cleared Lehmann of wrongdoing this week following an investigation that saw sacked captain Steve Smith and vice-captain David Warner banned for 12 months. Batsman Cameron Bancroft was suspended for nine months.

In an emotional media briefing, Lehmann, who had also come under fire for what critics called a toxic culture within the team, said his decision was voluntary.

"Ultimately I'm responsible for the culture of the team. I've been thinking about my position for a while, despite telling media yesterday that I'm not resigning," he told reporters in Johannesburg on Thursday.

"My family and I got a lot of abuse over the last week. Speaking to my family, it's the right time to step away."

His resignation came after former test captain Smith broke down in tears of remorse as the three disgraced cricketers at the centre of the Cape Town scandal made apologetic returns to Australia on Thursday.