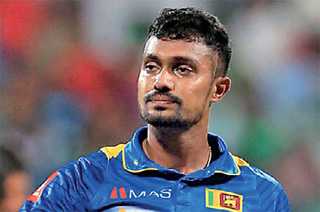 Danushka Gunathilaka
---
Sri Lankan opening batsman Danushka Gunathilaka made news recently on allegations of a brawl which had allegedly taken place at a well-known restaurant in Matara on 10 April.

Having contacted Danushka Gunathilaka on these recent allegations, he directed us to his lawyer Nishan Premathiratne.

Premathiratne informed Daily FT that it was Danushka Gunathilake who initially requested the SLC to inquire into these false allegations and thereafter met SLC on the matter. However, as no substantive action was taken by SLC, his client subsequently requested SLC in writing to take appropriate action to mitigate the continuous damage being caused to his client's reputation by these frivolous and unfounded allegations.

It was also mentioned that the resort which was named in respect of the incident has already issued a statement condemning the false and misleading news articles published in the media, which has also categorically stated that Danushka Gunathilaka had no involvement whatsoever in the incident. However Premathiratne mentioned that he had advised his client not to make any public statements in this regard.

Premathiratne stated that his client is awaiting a favourable reply and action from SLC to safeguard his interests.