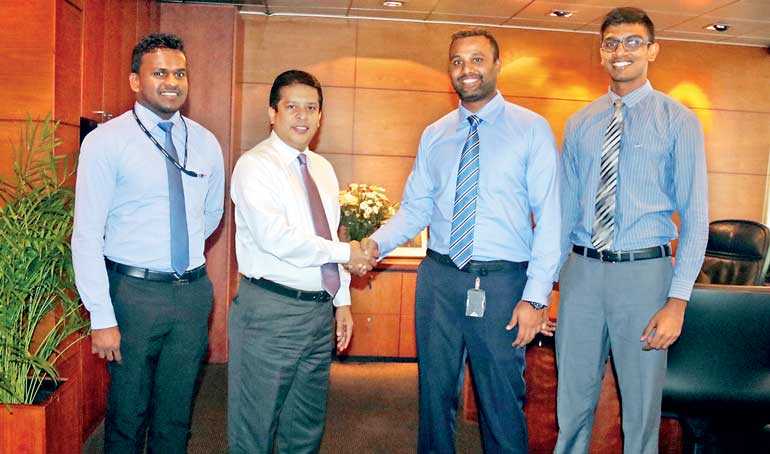 From Left: Charith Perera, CEO of DFCC Bank Lakshman Silva, National Basketball Team Captain Roshan Fernando, and Kisal Cooray
DFCC Bank has always encouraged sportsmanship and teamwork at all levels of its organisation. In keeping with its strong sporting culture, three team members from the Bank recently represented Sri Lanka at the South Asian Basketball Championship (SABA 2018), which was held in Dhaka, Bangladesh, in June. Delivering an exceptional performance at the tournament, the Sri Lankan National basketball team emerged as SABA 2018 champions for the first time, with DFCC Bank staff members Roshan Fernando (Captain of the National team), Kisal Cooray and Charith Perera all playing key roles in this year's championship.

Organised by the South Asia Basketball Association (SABA), the SABA Championship is a sub-zone tournament of FIBA Asia, which serves as a qualifier for various FIBA Asia events such as the FIBA Asia Championship and the FIBA Asia Cup.

The Sri Lankan team consistently showed their prowess on the court throughout the tournament, and went on to beat Bhutan with a score of 71-60 in the final match. Continuing an impressive winning streak throughout the tournament, the men's National basketball team went on to secure their win after a gruelling round of preliminary matches against the region's best national teams. Team members Roshan Fernando, who captained and lead the team to victory, as well as Kisal Cooray and Charith Perera, all contributed to the outcome, proving to be important assets in crucial matches against Bhutan and the Maldives. After its success at this year's SABA tournament, the team will go on to play in the FIBA Asia Cup 2021 pre-qualifiers, which will be held next September.

Commenting on the DFCC Bank staff members who represented the island at SABA 2018, DFCC Bank CEO Lakshman Silva stated: "We are very pleased that our National basketball team emerged as the winners of the South Asian Basketball Championship for the third time, and we are proud of our DFCC team members Roshan, Kisal, and Charith, who represented the Nation and contributed to Sri Lanka's victory at the tournament. Over the years, our basketball players have participated in tournaments at mercantile, regional and international levels, whilst also being a commendable force in Sri Lanka's mercantile basketball arena. At DFCC, we have always strived to foster a passion and penchant for sports and physical activity. Our sporting culture helps to develop crucial qualities and values, such as discipline, focus and team work, and these in turn facilitate success in the workplace."

DFCC Bank PLC is a fully-fledged commercial bank that offers an array of seamless retail and corporate banking solutions. This includes savings and deposit products that give customers unmatched value and unique benefits. The Bank has been rapidly growing its footprint across the country with a network of 138 service points and 95 branches. Connected to the LankaPay Common ATM Switch, all account holders can access over 4,000 ATMs island-wide and perform zero cost cash withdrawals and balance inquiries via connected Banks. DFCC Bank has received a rating of AA- from Fitch Ratings Lanka.