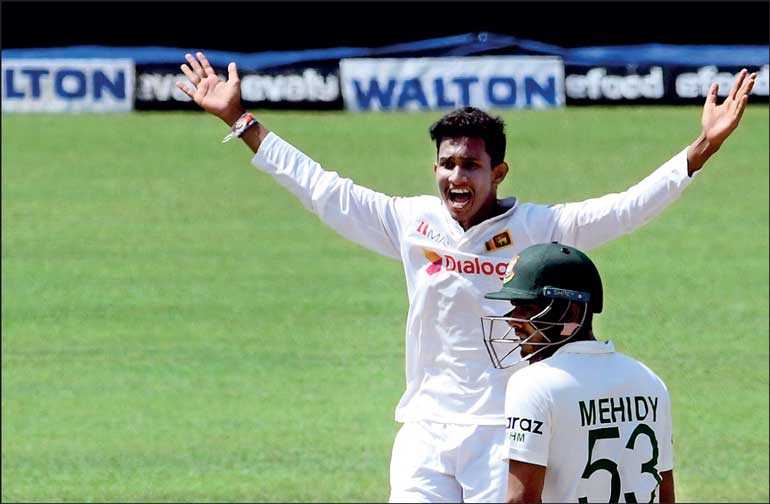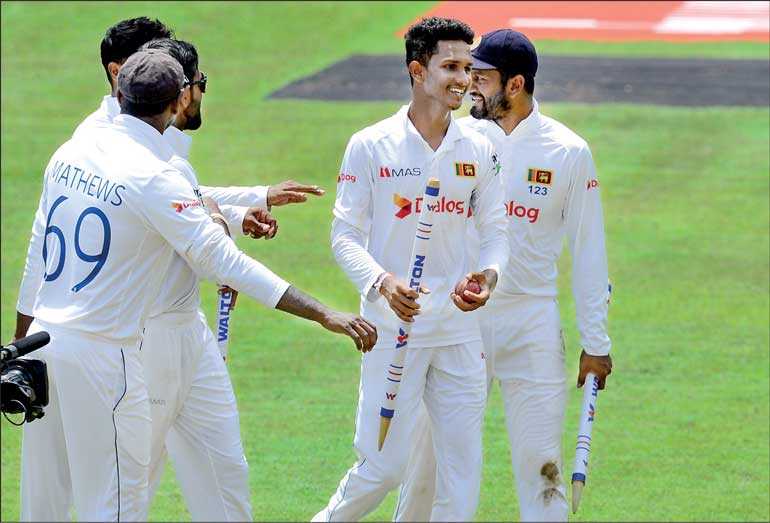 Sri Lanka's new rising star Praveen Jayawickrama with his prized souvenirs – the ball with which he took five wickets in the second innings and a stump after bowling his team to a 209-run win over Bangladesh
---
The first bowler to take twin five-wicket hauls on Test debut in 33 years
---
By Sa'adi Thawfeeq
---
During these pandemic-ravaged times, one of the key topics of discussion in Sri Lanka was the extraordinary performance of a 22-year-old cricketer from down south, simply known as Praveen Jayawickrama (no tongue-twisting middle names as some Sri Lankan cricketers have), who tantalisingly bowled his country to a long-awaited Test win with a bowling performance that had everyone sitting up and taking notice of. He was in fact the first bowler to take twin five-wicket hauls (6/92 and 5/86) on Test debut in 33 years; India's Narendra Hirwani being the last in 1988.

No doubt Jayawickrama was making a name for himself in the domestic circuit with his left-arm orthodox bowling for Moors Sports Club in the SLC Limited-Over Inter-Club Tournament, capturing 15 wickets from seven matches when he was called to the Sri Lanka Test squad for the second Test against Bangladesh at the Pallekele International Cricket Stadium.

Few know that Jayawickrama would have been lost to Sri Lanka cricket if not for his present coach and mentor Chamila Gamage, the former Sri Lanka fast-bowler who made him change his mind from going and playing cricket in England.

Jayawickrama in his maiden media interview spoke to Daily FT:
Q: You are the first Sri Lankan cricketer to take six wickets in an innings and more than ten wickets in a match on Test debut. Your thoughts on that?
A: Before I came for the Test, I didn't think of such an achievement, after I bowled a few balls, I got a little confident that I would be able to take five wickets and ended up taking six. In the second innings, I tried to win the match for my team, so I had to take wickets to do that. I tried concentrating on bowling as many dot balls as possible and build-up the pressure, but eventually I ended up taking another five wickets.
Q: How did the Pallekele wicket play, did it assist you?
A: There was some support from the wicket for the spinners, but Bangladesh had very good batters, so it was not easy to take wickets. The captain and players told me; just do the right things and the wickets will come. Don't try to take wickets but bowl as many dot balls and build up the pressure. So, I did just that and the wickets came.
Q: What is the support you received from Ramesh Mendis?
A: I play with Ramesh (aiya) for Moors SC. In club matches, we bowl at either ends so we have an understanding with each other. He also bowled well so I received good support from him and was able to perform the way I did.
Q: Did you ever dream that you would play for your country so soon at the age of 22 and with only 10 first-class appearances behind you?
A: When I played for the Under-19 national team, I thought that I could play for the country by the ages 21-22, but in the past few years I didn't think so because there weren't so many matches and I also got injured, so I thought I wouldn't play as early as 22, but at least by 24. But at the age of 22 I got the chance to play for my country.
Q: What was your initial reaction when you found out that you had been selected in the Test squad?
A: It was my biggest dream from my childhood to play for the national team. It was the dream of my parents as well. So, I put aside my studies and concentrated on pursuing my goal. I am extremely happy that I was able to achieve it.
Q: When did you find out that you were in the final eleven for the Test?
A: I learnt it the day before the Test when the Head Coach told me to be ready to play in the Test. I felt a little bit of pressure inside me, but I thought that I was going to make the most of my opportunity. When I came for the Test, I got a lot of support from my teammates and the support staff.
Q: When the captain tossed the ball to you and asked you to bowl what went through your mind?
A: I was keen to bowl my first ball in Test cricket although there was pressure, I didn't feel it. The captain advised me to do the right things and try and bowl as if I would normally in a club match and not put too much pressure on myself.
Q: How did you feel when you took your first Test wicket?
A: Elated definitely. It was my first international wicket (Saif Hassan).
Q: Did you at that time ever think that you would end up with an 11-wicket match haul?
A: No.
Q: What are your wicket-taking deliveries?
A: I bowl left-arm orthodox mainly and the arm ball those are the two deliveries that I bowl. I got most of my wickets bowling the arm ball.
Q: How did you learn to bowl the arm ball?
A: I learnt to bowl the arm ball on my own by watching videos.
Q: Which of the 11 wickets you took gave you the most satisfaction?
A: The wicket of Tamim Iqbal. His wicket was the one the team was keen to get. I tried somehow to get his wicket for the team, and I am happy I was able to do that.
Q: Did you model your bowling action on any other international bowler?
A: No. It is something which I modelled myself.
Q: Have you watched the bowling of other left-arm bowlers?
A: I watch Rangana Herath and Ravindra Jadeja a lot and also Australian off-spinner Nathan Lyon. Although Lyon bowls right-arm, the action is the same and I like his bowling action.
Q: Can you briefly tell your career at school?
A: I initially studied at Holy Cross College – Kalutara. I was 11 years when I started playing Under-13 cricket for three years and then Under-15 cricket. After that I played three years in the Under-19 first eleven side. After sitting for my O. Levels, I went to St. Sebastian's College – Moratuwa more to enhance my cricket than studies. There I played in the Under-17 team and three years in the Under-19 first eleven side. The first season I played I got selected for the Under-19 national team.
Q: Who has been your coach/es?
A: From Under-15 when I played for the district. my coach has been former Sri Lanka fast-bowler Chamila Gamage. He has been my mentor and coach for the past eight years. Whenever I have a problem, I go to him for advice. I was due to go to the UK to play a season of cricket, but he is the one who advised me not to go, but be patient, and that I will get a break to play for Sri Lanka. I got a contract to sign for a club in the UK through some of the Lankan players who were already playing there. I did exceptionally in the Under-19 national team for two years and was the third highest wicket-taker, but I didn't get a chance to play in the Emerging team or the 'A' team, that is why decided to go and play cricket in the UK.
Q: Chamila Gamage is a fast-bowler and you are a spinner; which way is he helping you?
A: When I was playing at Under-15, he was my district and provincial coach. Although he is a fast-bowling coach, he knows little, little things. He doesn't so much concentrate on the bowling side but assists me on the mentally side and on other aspects. Cricket is not only about bowling. The spin bowling coach for the national team is Sajeewa Weerakoon and I am getting a lot of support from him, but Gamage is my mentor.
Q: Who was your coach at school initially?
A: I went to an academy and my coach was Sanath de Alwis. After that at Holy Cross it was Nimal Dabare who was my coach.
Q: Did you begin your career as a spinner?
A: Initially I began as a fast-bowler at the age of 10 and the first two balls I bowled bounced twice before it reached the batsman. I knew I was not going anywhere as a fast-bowler so I decided to copy Muralitharan and did a lot of spot bowling. I used to play at home with my brothers (I have one brother elder to me and two who are younger).
Q: Tell me something about your family?
A: I lost my father in 2013 when I was 15 years old and have been looked after by my mother and elder brother. My elder brother did a law degree and my two younger brothers, one has been selected to enter campus and the other is still studying at Holy Cross. They played cricket for a year or two, but they didn't have a great interest for cricket. We all play cricket at home, but they didn't have any ambition to pursue a career in cricket.
Q: What are your future ambitions?
A: I have got to a good start, more than I could have expected so I hope to pursue it and do big things for the national team. I am not looking out for any job opportunities but want to continue my career as a professional cricketer. You cannot do a job and at the same time and concentrate on your cricket.
Q: What is the club you first played?
A: I made my club debut for Colts CC and played for two years and then I joined Moors SC on the initiation of Ramesh Mendis and have so far played two seasons. Our partnership has helped me greatly to play for my country.