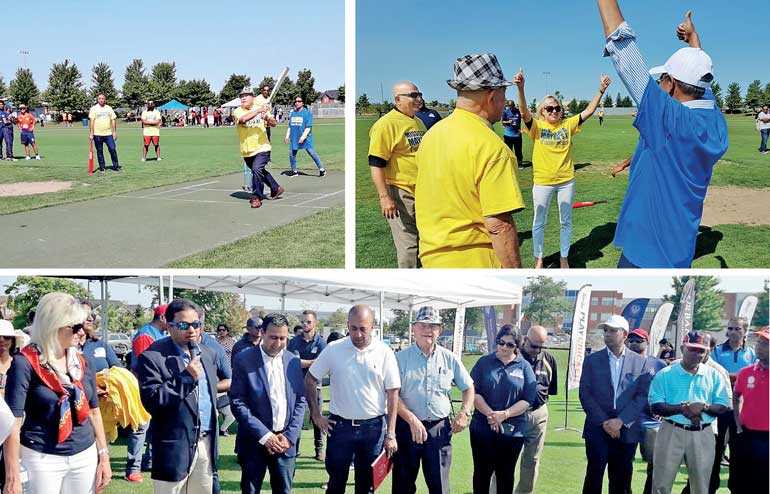 As part of Sri Lanka's 70th independence celebrations, the Canada-Sri Lanka Friendship Cricket Cup (CSLFCC), jointly organised by the Sri Lanka Consulate General in Toronto and the Ontario Cricket Development Organization (OCDO), was launched on 11 August at the Courtney Park Sports Complex in Mississauga.

The annual event is intended to bring together the cricket-loving communities from Sri Lanka and other countries. The agreement to hold this annual event was arrived at a meeting attended by the Mayor of Mississauga, Bonnie Crombie, Consul General of Sri Lanka in Toronto, U.L. Mohammed Jauhar and Derek Perera and Ranil Mendis, held on 1 May 2018 at the Mississauga Civic Centre.

Welcoming the initiative of the Consulate General and the OCDO, the Mississauga Mayor said: "Our residents love cricket. Mississauga proudly operates seven cricket pitches across the city, and the popularity of this sport only continues to grow amongst our residents. We are pleased to support the Consulate General of Sri Lanka and Ontario Cricket Development Organization as they showcase cricket in Mississauga through the celebration of Sri Lanka's 70th anniversary of independence."

Parliamentarian Mayantha Dissanayake, who was present at the launching, addressed the gathering, and commended the Consulate General of Sri Lanka in Toronto and the OCDO for the initiative. He welcomed using sports to bring about reconciliation. He also spoke about Sri Lanka's achievements in cricket, including the challenges that had to be faced in obtaining test status.

Consul General Jauhar extended his sincere thanks and appreciation to Mayor Crombie and the OCDO for their gracious support to celebrate Sri Lanka's 70th anniversary of independence in Mississauga. He highlighted the inclusive role of sporting events, including the game of cricket and added that this sport, especially among the people of South Asia, transcends ethnic, religious, linguistic and other ideological differences.

He referred to the Commonwealth's peace-building initiative 'Peace at the Crease' and informed that Sri Lanka had been invited to give leadership to this project in the region, particularly in harnessing youth engagement in the development process through sports.

At the opening of the exhibition match, the Mississauga Mayor led the Mississauga World Xl cricket team against Sri Lanka Consul General's Xl, which comprised Consular Corps representatives in Toronto.

Kaleed Rasheed and Deepak Anand, Members of the Ontario Provincial Parliament, representing the Premier of Ontario were among the dignitaries present.